Pro Bono Spring Break student teams support lending reform and property tax appeals in Atlanta
Apr 18, 2019
Six VLS students led by Muna Abdallah '20 traveled to Atlanta to spend Spring Break 2019 working pro bono under the supervision of Equal Justice Works Fellow Darrius Woods '17.
Woods has spent more than a year working with the Atlanta Legal Aid Society to defend clients victimized by predatory loans, home purchase scams and property tax laws that disproportionately impact low-income people, communities of color and seniors. He has also worked in the wake of a recent property tax valuation to ensure seniors whose property taxes have increased due to rising property values get the tax relief they need to remain in their homes.
Abdallah and team members Connor Farley '21 and Maura Allen '19 supported Woods' work on a predatory lending scheme known as a contract of deed or land contract, which, according to a successful lawsuit brought by ALAS, gave low-income clients "all of the obligations of homeownership, but none of the rights." ALAS recently won the case, Horne v. Harbour Portfolio, on behalf of 17 clients misled by a Texas-based lender into thinking they were buying homes when the contracts of deed they signed effectively made them renters.
Contracts of deed allow lenders to retain full ownership of the house until the buyer made the final payment, meaning buyers gain no equity in the house during the entire loan term, and often also give lenders the right to foreclose on the property within days if the buyer is late on single payment. "Thanks in part to Darrius's work, the courts recognized that buyers who have been making payments for years have equity in their property," Abdallah said.
Woods now hopes to see future reforms to Georgia laws to protect the state's residents from such predatory lending schemes. Abdallah, Farley and Allen spent part of their time researching lending laws in other states to support proposals reform proposals. "For example, Florida has a statute stating all instruments conveying property are deemed to be mortgages," Abdallah explained. "That statute protects buyers from claims that their payments were rent rather than mortgage payments."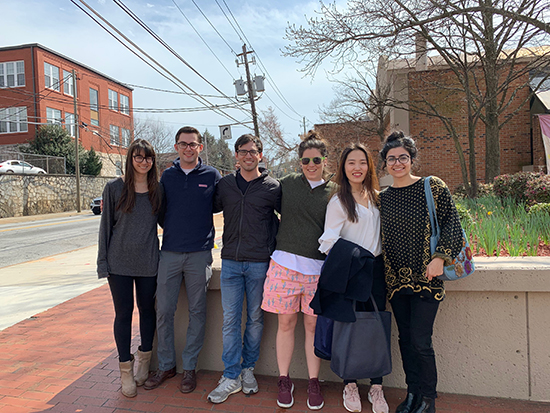 Austin Jacobs'19, Molly Harwood '21 and Dexin Qin LLM '19 spent their week helping low-income Atlantans apply for property tax relief, particularly important in Georgia, where some counties allow third parties to claim title to property by purchasing delinquent tax liens. "Georgia allows each county to develop its own property tax rules and regulations," Woods explained. "The students were a tremendous help in researching technical issues our full-time staff hadn't had the time to work on."
In Fulton County, the principle county of Atlanta, a recent property revaluation increased the property taxes due on most homes. "Many people's property taxes more than doubled," Woods said. "Seniors and others living on fixed incomes couldn't afford to pay and risked losing their houses." The students support the ALAS's Senior Citizens Law Project by gathering information to support property tax appeals for clients who were eligible for tax relief.
"Students gained valuable experience researching land use statutes and gathering information to support property tax appeals," Associate Dean for Public Interest Spring Miller said. "The work they did was especially important because of the critical role housing plays in providing stability to low-income families."
Woods was named an Equal Justice Works Fellow in 2017. His two-year fellowship is funded by Home Depot and the international law firm Eversheds Sutherland. He helped establish the law school's Pro Bono Spring Break Program in 2016, leading 10 students who spent their week working for a variety of legal nonprofits in New Orleans.
---