Speaking of Alumni
When I talk with Vanderbilt Law alumni, they reminisce about their collegial classmates, an open and engaged faculty, the warm welcome they received in Nashville, or a particularly close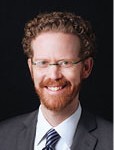 alumni mentor. I hear about a scholarship that helped them come here for law school or about financial support that came after a sudden change of circumstances threatened to end their legal education. As Dean Guthrie emphasizes in this issue, a key priority of the law school is to strengthen our long tradition of investing in students to ensure that we attract outstanding candidates well-suited to our unique brand of legal education.
We have increased both need and merit awards in recent years, allowing us to continue attracting top students—Vanderbilt is among a handful of schools that enjoyed increased applications for the current 1L class—and decrease student indebtedness.
Scholarships benefit all alumni by making our student body diverse. One alumnus told me that he competed for a Patrick Wilson Scholarship; he was not selected, but was convinced by his time on campus with our faculty and students that these were the people with whom he needed to study law. Our student body is meaningfully diverse, and our students (and faculty) all gain from the wide range of experiences that students bring to the classroom.
I'm excited to announce several gifts to support scholarships. Weldon Wilson '86, who serves on our Board of Advisors, committed an additional $270,000 to the scholarship he originally endowed in honor of his 25th Reunion. Hal Hess '90 invested another $300,000 in his scholarship, making it one of our largest scholarship endowments. (Hal's most recent scholar, Will Marks '14, was this year's Founder's Medalist.) Steve Riley '78 (BA'74) endowed the scholarship in which he has been investing in over several years. Steve and his wife, Laura (BA'74), also added a new scholarship for Peabody College, bringing the number of Riley Family Scholarships at Vanderbilt to four. Hugh '56 and Ann Morgan (BA'52) added $100,000 to their scholarship, which has already benefited a number of terrific students. David Ford Hunt '60, who died this spring, capped his faithful lifelong support by making the law school the beneficiary of his retirement account; the resulting gift more than doubles the scholarship fund he endowed. An anonymous alumnus celebrating his 35th Reunion in 2014 committed to a $250,000 estate bequest to augment a scholarship created with several colleagues to honor another colleague. Stephanie Parker '84, our current board president, has committed an additional $150,000 to increase the scholarship she has endowed in honor of her grandparents and support our Annual Fund and other priorities.
We have also received several new scholarship funds. Fenwick & West gave $100,000 in honor of Bill Fenwick '67 upon his retirement; Bill and the firm have previously supported efforts as varied as our comprehensive building renovation and the firm's lecture series. Ross '96 and Jennifer Levin committed $250,000 to endow a new Levin Scholarship. Members of the Class of 1991, who collectively pledged to create a scholarship in honor of their 20th Reunion in 2011, reached their goal this year. An alumnus celebrating a 25th anniversary at Reunion 2014 has pledged $100,000 to endow a new scholarship, increasing an already strong philanthropic legacy at Vanderbilt. The Class of 1994, spearheaded by gifts from Dan Reed and Brad Williams (MBA'94), is well on its way to endowing a scholarship in honor of its 20th Reunion. Finally, continuing a tradition of investment in the law school, Dean Chris Guthrie and Professor Tracey George made a pledge to complete the endowed scholarship they have been funding over the last several years.
I invite you to consider creating your own scholarship, if you are able, or to invest in one of several existing scholarship funds, such as those honoring legendary professors and personalities like Elliot Cheatham, Tom McCoy, Larry Soderquist, Don Hall and John Beasley. If you fund scholarships, you can be sure that your gift will have a transformative effect on the life of the student who receives it and a tremendously positive impact on the entire Vanderbilt Law community.
Sincerely yours,
Scotty Mann
Assistant Dean for Development and Alumni Relations
---