Speaking of Alumni, Winter 2018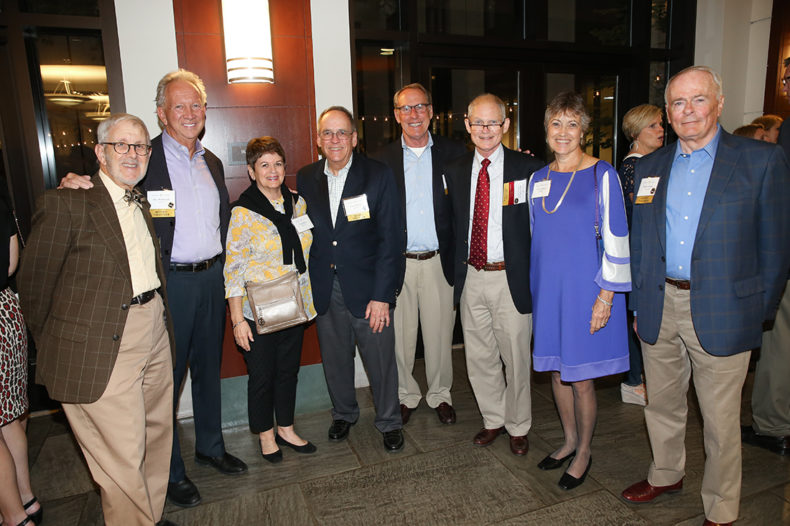 I hope your 2018 is off to a wonderful start. Since we follow an academic calendar, we kick off our new fundraising year on July 1. I am pleased to report that at the Dec. 31 midpoint of the year, we have received a ringing vote of confidence from our donors.  As I write this, we have already surpassed the overall fundraising totals from the 2017 fiscal year in both current gifts and in planned gifts such as bequests.      
A strong indicator of our overall year is the fundraising performance of our Reunion classes, and we had reason for optimism as Reunion fundraising ramped up in advance of Homecoming in October. We ended up with another year of strong attendance across our Reunion activities and broad-based participation in giving by class members. We were also fortunate to receive a number of major gift commitments from individuals celebrating Reunion last fall. In particular, I would like to commend the Classes of 1972 and 1992, both of which endowed new scholarships as part of their fundraising efforts last year. Thanks to everyone who served as volunteers, attended Reunion and gave back to the law school.    
I have emphasized the importance of financial support for our students in previous columns, and providing meaningful aid to our students continues to be our highest priority. While we continue to attract outstanding candidates, students are more financially savvy than ever and weigh the costs and benefits of their legal educations when choosing a school. The scholarship landscape has truly transformed in recent years as law schools compete for students, and investments in scholarships and other financial aid by our alumni and friends have helped us to continue to enroll remarkable students and limit student debt. While we have made great progress, we still have a long way to go to be on equal footing with most of our better-endowed peers. I hope you will consider endowing a scholarship, giving to an existing scholarship endowment (perhaps the one you benefited from as a student), and continue giving to our Annual Fund. We are also happy to help you invest in future generations through a variety of planned giving options.
While supporting our students remains critically important, our deeply engaged and highly productive faculty is the backbone of the law school. We have historically had fewer endowed faculty funds than our peer schools, and we have been heartened by the VLS community's response to the university-wide Chancellor's Chair Challenge. I want to thank Ted '70 and Gloria (BA'67) LaRoche for their family foundation's pledge to endow the LaRoche Family Chair, Bob '78 and Terri Reder for their commitment to endow the Enterprise Chair, and Hal '90 and Jodi Hess for endowing the Hess Chair. Ted is a former board member and longtime supporter of the school who had a leadership role in our earlier building campaign; he and Gloria made this gift to honor three generations of VLS graduates, including Ted's father Richard F. LaRoche Sr. '50 and their son David B. LaRoche '06. Bob serves on our board of advisors, is a professor in our Law and Business Program, and previously endowed the Enterprise Faculty Fund, which supports faculty research. Securities regulation expert Yesha Yadav, our current Enterprise Scholar, is profiled in this issue of Vanderbilt Law. Hal previously served on our board of advisors, and he and Jodi previously endowed the Hess Scholarship. Hal also made the lead gift to the Class of 1990's successful effort to endow a class scholarship on the occasion of their 25th Reunion celebration.
This edition of Vanderbilt Law profiles our three most recent chair appointments, Professors Joni Hersch (a Cornelius Vanderbilt Chair), Daniel Gervais (a Milton R. Underwood Chair) and Kevin Stack (a Lee S. and Charles A. Speir Chair). These profiles show the caliber of Vanderbilt's law faculty, and we are deeply grateful for the new endowed chairs that will help us continue to attract and retain terrific scholars and teachers like Joni, Daniel and Kevin.
We have several terrific events this spring, but I'd particularly like to draw your attention to talks by Judges Casey Cooper of the D.C. District Court on Feb. 13 and Amul Thapar of the Sixth Circuit Court of Appeals on March 22, and by Chris Giancarlo '84, chair of the U.S. Commodity Futures Trading Commission, on April 13, the same day as our annual Founders Circle donor dinner. Chris has served on the commission since 2014 and became its chair in August.
As always, thanks for your interest in and support of our law school.
Scotty Mann, J.D.
Associate Dean, Development and Alumni Relations
---