Ten VLS students volunteer at Mississippi Center for Justice for Pro Bono Spring Break
Mar 23, 2017
Ten Vanderbilt Law students spent their Spring Break week engaging in pro bono service work at the Mississippi Center for Justice in Biloxi. The volunteers included students from all three J.D. classes and Vanderbilt's LL.M. program for foreign attorneys, according to Hannah Keith '18, who directed Vanderbilt's 2017 Pro Bono Spring Break program.
Law Students for Social Justice, a student organization, organizes the Pro Bono Spring Break program, which was established in 2016 by Darrius Woods '17. The George Barrett Social Justice Program and the Assistant Dean for Public Interest's office provided funding for the students' transportation and lodging.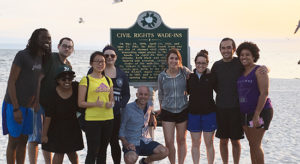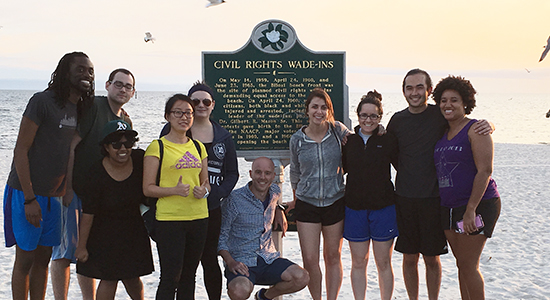 Three teams of students worked on education, expungement and heir-ship cases for low-income Biloxi residents under the direction of staff attorneys at the Mississippi Center for Justice.
Located on Mississippi's Gulf Coast, Biloxi was particularly hard-hit by Hurricane Katrina in 2005. In the more than 10 years since the storm, many residents have struggled to submit successful claims for home repairs resulting from hurricane damage, often because they have difficulty establishing clear title to their homes. One team focused on property rights issues that have prevented people from settling damage claims. "Some people have been living in damaged homes for more than a decade," Keith said. One project she and her team worked on during the week was to draft a petition to close an estate for an elderly woman who inherited her house from her father in order to establish that she was the rightful owner so she could receive funds to repair her house.
Another team researched education law regarding whether students referred to alternative schools are entitled to transporation. Students also did intake interviews with clients and assisted clients in obtaining orders of expungement, or sealing of criminal records.
"All three groups made a real impact," Keith said. "We made a dent in the attorneys' workload."
Assistant Dean for Public Interest Spring Miller provided guidance and support to student organizers of the trip. "We had an outstanding group of applicants for this project," Miller said. "They gained substantive legal experience and had a great time. We look forward to growing this program moving forward."
While in Biloxi, the students visited a beach that was the site of a famous protest in 1960 that ultimately resulted in the desegregation of the city's 26-mile shoreline.
Students who participated in the 2017 Vanderbilt Pro Bono Spring Break project included Megan Mitchell '19, Jenae Ward '19, Randy Hiroshige '19, Dan Lawless '19, Wesley Dozier '19, Vid Sankar '18, Meg Fowler '18, Qiyu Wu (LL.M. '17) Francesco Forin '17 and Hannah Keith '18.
---