Tracey George: The Charles B. Cox III and Lucy D. Cox Family Chair In Law and Liberty
Judicial politics scholar is the inaugural holder of the newly endowed Cox Chair.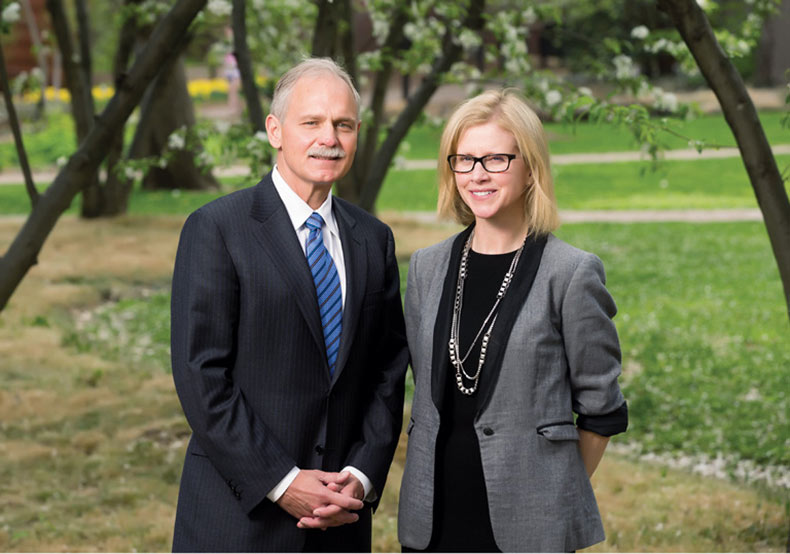 By Grace Renshaw
Tracey George's interest in the Supreme Court and other federal courts began during college. As a double major in political science and economics at Southern Methodist University, George was recruited as a research assistant by Lee Epstein, a pioneer in the area of empirical legal scholarship. "I spent my school years and summers doing research about why the Supreme Court did what it did and why decisions in federal cases went a certain way," George recalled.
Those conversations turned into a pathbreaking article, "On the Nature of Supreme Court Decision Making," which George co-authored with Epstein and published in American Political Science Review, the premier journal in political science. One of two articles and a book that George and Epstein co-authored while George was earning her J.D. at Stanford Law School, the piece was reprinted in two books—The International Library of Politics and Comparative Government (Ashgate, 1995) and Equal Justice Under Law: The Supreme Court in American Life (Carlson, 1995)—and remains one of the most frequently downloaded and assigned works addressing judicial politics.
They also set George, who was recently appointed to the newly endowed Charles B. Cox III and Lucy D. Cox Family Chair in Law and Liberty, on a course to become one of the nation's leading scholars in the fields of judicial politics and the empirical study of federal courts. Her articles have been published in the American Political Science Review, Journal of Empirical Legal Studies, North Carolina Law Review, Northwestern University Law Review, Duke Law Journal, Supreme Court Economic Review, Vanderbilt Law Review and Judicature, among others. "Her work is characterized by the polish of her writing and the rigor of her empirical methodology," said Lisa Bressman, associate dean for academic affairs, who holds a David Daniels Allen Distinguished Chair of Law.
After clerking for Judge Francis Murnaghan Jr. on the U.S. Court of Appeals for the Fourth Circuit, George joined the renowned litigation boutique firm Miller Cassidy Larroca & Lewin in Washington, D.C. "It was an incredible experience to work with and learn from some of the very best litigators in the country," she said. "But my desire to be a scholar only grew as I learned more about the law and legal institutions from the litigator's perspective."
Three years later, George received an offer to teach law at the University of Missouri—her home state—and eagerly accepted. There she earned tenure in four years and held a secondary appointment in political science. She also met another young law professor and Stanford Law graduate, Chris Guthrie. After George joined the tenured law faculty at Northwestern University in 2001 and Guthrie joined Vanderbilt's law faculty in 2002, both institutions offered the pair positions. George and Guthrie ultimately chose Vanderbilt because they liked its collegial culture. "I was having a hard time making the decision to come to Vanderbilt, because Northwestern was a great place to conduct empirical research," George said. "Chancellor (Nicholas S.) Zeppos was provost then, and he invited me to coffee. During our conversation, I was impressed by Nick's ability to move seamlessly from talking about the law school to talking about the university as a whole as an exciting place that was only going to become better and stronger than it already was. He promised that Vanderbilt was the best place to pursue an interdisciplinary approach to vital questions about the role of courts in the development of law and policy. As provost and as chancellor, Nick has delivered on that promise."
Since joining Vanderbilt's law faculty, George has become a revered teacher of Contracts, winning four Hall-Hartman teaching awards, and a conscientious mentor who meets with students to help them discover and pursue their professional ambitions. She has also transformed the first semester of law school from an experience often described by 1Ls as bewildering or even terrifying by developing, with colleague Suzanna Sherry, a weeklong introductory course, The Life of the Law, which members of each incoming class take during orientation. "Students walk into their first law class and hear what sounds like a foreign language," George said. "They often feel like they are behind from the first day. Professors also complain that students lack foundational knowledge in the structure and history of the American legal system. Our goal was to provide a simple, straightforward overview of basic concepts law students need to know as well as an explanation of why and how law school works, so the first day of class would be less terrifying and every subsequent day would be positive and productive. We aspire to make legal education as effective as possible while retaining the highest possible standards for our students." She and Sherry, who is Vanderbilt's Herman O. Loewenstein Professor of Law, also wrote the course textbook, What Every Law Student Really Needs to Know (Aspen, 2009), as a comprehensive introductory guide for students entering any law school. It has been adopted by numerous schools as an introduction to law school.
During her tenure at Vanderbilt, George has published a number of articles on the structure and decision-making processes in federal courts in prestigious journals and earned an M.A. in political science from Washington University in St. Louis. In 2009, when the Federal Judicial Center asked George and the late Professor Richard Nagareda, an expert on complex litigation, to partner with it on a study of multidistrict litigation, she readily agreed. "The FJC had never before partnered with an academic institution, and this was an incredible opportunity," she said. George has published two articles from that collaboration and is working on a third.
George's current research, which she discussed in a September lecture in honor of her appointment to the Cox Chair, examines how the federal judicial system has adapted to meet its workload, which has grown both in terms of the number of cases and in the complexity and consequence of the matters brought to the courts. "The American judiciary is awesome in its size," George explained. "But it is still no match for the number of disputes it could be asked to resolve. As a result, the courts are highly leveraged." The historic responses were to create more courts and judgeships and, later, to improve their practices and procedures. However, within the past 50 years, two new responses have developed that George believes are in tension. "One response offers the prospect of expanding the dispute-resolution ability and rights-protecting power of courts, while the other would contract that ability and power, especially for those most in need of a judicial resolution and court protection. The first—expanding—response involves thinking differently about how dispute resolution is provided by the federal courts. The second—contracting—response involves placing barriers to parties seeking to get into court. My research examines both responses and their implications for the future of the federal courts."
"Professor George has advanced our understanding of federal courts in innumerable ways, giving us a more satisfying empirical sense of judges and judging and allowing theory to develop on a more solid foundation," Bressman said. "She also invests tremendous time and effort in providing an outstanding classroom experience and has deservedly won numerous teaching awards. Her colleagues respect her scholarly work, and she has also produced excellent materials to help all law students better grasp Contracts and master law school in general. She is truly remarkable, and it is fitting that she is recognized as the inaugural holder of this generous chair."
One of George's areas of study is the legal academy—she and colleague Albert Yoon recently published an article, "The Labor Market for New Law Professors" (Journal of Empirical Legal Studies, 2014), addressing law school hiring practices—and she notes the importance of faculty chairs in faculty retention. "Both the law school and I owe a debt of gratitude to Charles and Lucy Cox and their family for their generous gift," George said. "Being named an inaugural holder of the Cox Chair is an honor. The chair is a living legacy; it represents a true commitment to knowledge and education that will last forever."
---