VLS Pro Bono Spring Break students successfully argue bond motions for immigrant detainees
Mar 21, 2018
Kevin Coker '18 and Yalda Godusi '18, working under the supervision of attorneys Elizabeth Matherne and Meredyth Yoon of the Southeastern Immigrant Freedom Initiative, successfully argued two separate bond motions on behalf of immigrant detainees. Coker and Godusi traveled with a team of seven Vanderbilt students led by Assistant Dean for Public Interest Spring Miller to work with SIFI attorneys representing detainees at an Immigration and Customs Enforcement detention center in Stewart County, Georgia.
"Two students argued two separate bond motions and received the statutory minimum bond for our clients in the amount of $1,500," Matherne said. "This was phenomenal news for Team SIFI and accomplishments to be truly celebrated."
The cases Coker and Godusi argued involved recent immigrants from Guatemala and Honduras who entered the U.S. to apply for asylum because their families have been targeted by gangs. The men are two of the approximately 1,700 immigrant detainees currently held at the Stewart County Detention Center. The Southern Immigrant Freedom Initiative was recently formed by attorneys from the Southern Poverty Law Center to represent detainees held at Stewart before immigration court in bond hearings.
The team of VLS students also included Randy Hiroshige '19, who organized the trip; Kylie Mintz '20; Muna Abdallah '20 and William Ladd '20, and a graduate student earning a master's degree in Latin American Studies, Andrea Delgado '18.
"Our students knocked it out of the park!" Miller said.
The Vanderbilt team worked with SIFI staff to screen detainees to determine the facts of their case, which allowed SIFI attorneys to identify those who could be eligible for bond or legal relief. While many detainees were from Mexico and Central America, students also interviewed detainees from Asian and African nations. "We were trying to get the facts of their situation, understand how they got here and look for possible forms of relief," Godusi said.
Detainees face daunting barriers, both physical and financial, to gaining access to legal representation. Coker noted the daunting wait times required to interview potential clients in the detention facility. "It could take between one and four hours to get to the point where you're sitting in the same room with the potential client," he said. "SIFI can take only so many clients, and there are tons more cases than they can take on. We helped identify cases where the client had a good shot at receiving bond."
Clients eligible for release must be evaluated to determine if they represent a flight risk or a danger to the community and whether they can afford bond. The clients Coker and Godusi represented both had relatives in the United States who could post bond, no criminal history and no gang affiliation. "We heard some of the stories of how immigrants came to be detained," Hiroshige said. "When you hear that ICE is detaining immigrants, you might not realize they're being detained in a medium-security prison in the middle of nowhere, which makes it incredibly difficult for them to access legal services."
Godusi plans to join Quarles and Brady in her hometown of Phoenix, Arizona, after graduation, while Coker plans to join the Nashville Public Defender's Office as a Gideon Fellow. Hiroshige plans to spend summer 2018 working with the Texas Rio Grande Legal Aid in Brownsville, Texas, where he will focus on immigration issues.
The SIFI Pro Bono Spring Break Trip to Lumpkin was one of two Pro Bono Spring Break trips sponsored by Vanderbilt's George Barrett Social Justice Program, Law Students for Social Justice and the Office of Public Interest.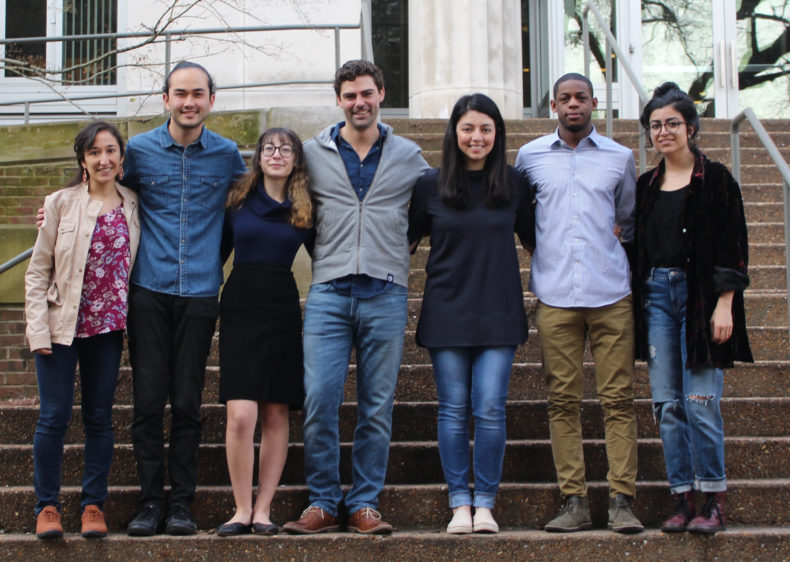 Photo: Lumpkin, Georgia Pro Bono Spring Break Team, pictured left to right: Andrea Delgado MA'19, Randy Hiroshige '19, Kylie Mintz '20, Will Ladd '20, Yalda Godusi '18, Kevin Coker '18 and Muna Abdallah '20.
---