W. Kip Viscusi and Joni Hersch join Vanderbilt law faculty
Jan 24, 2006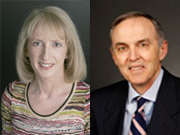 W. Kip Viscusi and Joni Hersch, law and economics scholars at Harvard Law School, will join the Vanderbilt faculty later this year as the law school launches the first program of its kind—a Ph.D. in law and economics.
By successfully recruiting two of the nation's premier scholars in law and applied economics, Vanderbilt Law School has embarked on the next generation of law and economics education: a combination of professional and academic degrees that will train scholars not only for academic positions, but also for legal practice, policy-making and public interest work.
"I am honored to have Kip Viscusi and Joni Hersch join our faculty," said Dean Edward Rubin. "Both have had distinguished careers as leaders in the application of economics to law. They join us not only as individual scholars but also to create a truly innovative program that will combine two degrees within a single institution and represents the next stage in interdisciplinary education for American law schools."
Viscusi is the John F. Cogan Jr. Professor of Law and Economics and director of the Program on Empirical Legal Studies at Harvard Law School, where he has taught since 1996. He will become University Distinguished Professor of Law and Economics, with primary appointments in law, business and economics. He is one of only five people at Vanderbilt with the University Professor designation, and Vanderbilt's only University Distinguished Professor. A University Professor holds tenured, primary appointments in at least two schools of the university, participating in the teaching, research and service missions of each school.
The Vanderbilt law faculty includes one other University Professor, James F. Blumstein, University Professor of Constitutional Law & Health Law and Policy.
Viscusi earned his undergraduate degree in economics, master's degrees in economics and public policy and doctorate in economics, all from Harvard. He is the award-winning author of more than 20 books and 250 articles, most of which are concerned with different aspects of health and safety risk. His research focuses on individual and societal responses to risk and uncertainty, and he is widely regarded as one of the world's leading authorities on cost-benefit analysis.
Viscusi's estimates of the value of risks to life and health have become the standard used throughout the federal government. He has served as a consultant to the U.S. Office of Management and Budget, the Environmental Protection Agency (EPA), the Occupational Safety and Health Administration, the Federal Aviation Administration and the U.S. Department of Justice on issues pertaining to the valuation of life and health. He was deputy director of the Council of Wage and Price Stability in the Carter administration. He served on the Science Advisory Board of the EPA for seven years and currently serves on the agency's Homeland Security Committee.
Before joining the Harvard faculty, he was the Allen Professor of Economics at Duke University, professor of economics at Northwestern University and the Olin Visiting Professor at the University of Chicago.
"Kip has been a pioneer in the application of cost-benefit analysis to the administrative state," Rubin said. "This has become the dominant form of regulatory analysis by the country's executive branch."
Hersch is adjunct professor of law at Harvard Law School, where she has taught since 1999. Prior to that, she was professor of economics at the University of Wyoming. She has published numerous articles on the gender differences in labor market outcomes, the economics of home production, job risks and product safety. Her recent research examines gender differences in the labor market for lawyers, smoking regulations, health disparities, judge and jury behavior and breast implant litigation.
Hersch is co-editor of Emerging Labor Market Institutions for the Twenty-First Century. In a field long dominated by men, she is renowned as one of the top female economists in the world. She will have a tenured appointment at the law school and secondary appointments at the Owen Graduate School of Management and in the economics department in the College of Arts and Science.
"Joni brings to the law school not only a distinguished academic career in economics, but also a path-breaking ability to teach empirical methods to lawyers and a focus on feminist issues that will greatly benefit our students," Rubin said. "Although top law schools typically have faculty with economics degrees, they do not offer the sophisticated approach to law and economics that Vanderbilt will as it bridges between law, economics and business."
Viscusi and Hersch expressed excitement over starting a unique program at Vanderbilt. "The law and economics movement is the most important innovation in legal scholarship in the past half century," Viscusi said. "Vanderbilt Law School will be launching the first J.D./Ph.D. program in the country focusing on law and economics. We are delighted to be an integral part of this exciting new venture along with our new colleagues in the law school, economics department and business school."
"It's exciting to do what no other law school has done, and to take the lead in what we believe is the wave of the future in law and economics education," Rubin said.
---