Yesha Yadav's article, "The Failed Regulation of U.S. Treasury Markets," selected as one of the Best Corporate and Securities Articles of 2021
Apr 26, 2022
"The Failed Regulation of U.S. Treasury Markets," an article by Yesha Yadav, has been selected as one of the top articles addressing topics in corporate and securities law published in legal journals in 2021 by Corporate Practice Commentator.
The article was published in the Columbia Law Review (121 Columbia Law Review 1173, 2021).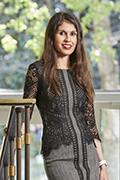 Articles are selected via a poll of corporate and securities law professors. Yadav's article was one of 11 recognized as among the best legal scholarship out of more than 400 articles of 2021.
Yadav's article addresses weaknesses in the structure of the U.S. Treasury market that threaten its stability. "These fragilities reflect a public oversight framework that is fragmented and outdated and cannot deliver robust oversight, and private self-regulation that is inadequate to fill the gap left by an ineffective system of public supervision," she said.
As a result, the Treasury market is "fragile" and "vulnerable to failure and risk-taking as traders lack a sufficient economic interest to maintain market integrity."
She concludes by offering two proposals aimed at strengthening both public and private oversight of the Treasury market.
Yadav is an expert in financial and securities regulation. Before joining Vanderbilt's law faculty in 2011, she worked as legal counsel with the World Bank in its finance, private-sector development and infrastructure unit, where she specialized in financial regulation and insolvency and creditor-debtor rights.
Before joining the World Bank in 2009, she practiced from 2004-08 in the London and Paris offices of Clifford Chance, in the firm's financial regulation and derivatives group. As part of her work in the area of payments regulation, she was assigned to advise the European Payments Council on the establishment of the Single Euro Payments Area, an initiative that seeks to integrate the domestic payments markets across the European Economic Area and Switzerland.
Since joining Vanderbilt, Yadav has served as honorary advisor to India's Financial Services Law Reform Commission and on the Atlantic Council's Task Force on Divergence and the Transatlantic Financial Reform and G-20 Agenda.
She has been a member of the Commodities Futures Trading Commission's Technology Advisory Committee and is the vice-chair for the Tennessee State Advisory Committee to the U.S. Commission on Civil Rights. She has served as Associate Dean and Robert Belton Director of Diversity, Equity and Community since summer 2020.
---
Faculty News General News Home Page News L&B News and Events