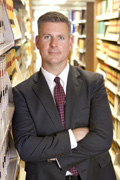 Larry Reeves, associate dean and director of the Alyne Queener Massey Law Library, has been selected to participate in the Association of Research Libraries Leadership Fellows Program for 2013-15.
Reeves was nominated for the fellowship program by Vanderbilt Dean of Libraries Connie Vinita Dowell. He was one of 26 fellows—and the only law librarian—accepted for the current class of fellows by the highly competitive program, which is designed to foster the development of senior-level leaders in large research libraries. Fellows represent a broad array of backgrounds and experiences.
Over the course of the 18-month fellowship, fellows attend a series of educational institutes at sponsoring universities that address issues relevant to research libraries in the context of large, complex institutions. Fellows are also invited to attend site visits at other major research libraries and participate in related educational programs, conferences, and meetings of the ARL leadership. The first educational institute the 2013-15 class of fellows will attend will be held at Vanderbilt University during November.
"The program is intended to give fellows insights into the leadership of host universities, and I feel particularly fortunate that Vanderbilt will host the first institute. This will be an excellent opportunity to engage with Vanderbilt leaders from across the campus," Reeves said. Reeves will also attend institutes at the University of Toronto and the Universities of Guelph and of Waterloo in Ontario, Canada. Site visits will include Purdue University and North Carolina State University.
Reeves is one of two Vanderbilt library managers selected for the fellowship. Vanderbilt Associate Dean for Libraries Bill Hook, who is responsible for supervising six of Vanderbilt's eight university libraries, is also a 2013-15 ARL Leadership fellow.
Established in 1932, the ARL is a non-profit membership organization comprising 125 research libraries in the United States and Canada representing universities, public libraries, national libraries, and special libraries.