Former Sen. Fred D. Thompson, Class of 1967, died Nov. 1 in Nashville. He was 73.
The cause was a recurrence of lymphoma, his family said in a statement.
A lifelong Republican, Thompson ran for the Senate in 1994 in a special election to fill the seat vacated by Vice President Al Gore. Although the Senate race was his first, Thompson had previously worked closely with Sen. Howard Baker as his campaign manager in 1972 and as counsel to the Senate Watergate Committee, on which Baker served, in 1973-74. "I had become increasingly concerned about the direction of the government—excessive growth, unsustainable spending bound to lead to a weaker economy, centralization and moving away from founding principles. When Al Gore's Senate seat became vacant, it was 'put up or shut up' time," he told interviewer Jennifer Johnston for a Vanderbilt Law profile in 2013.
Thompson received 60 percent of the vote in the 1994 election and easily won a full six-year term in 1996. He resigned from the Senate in 2003 after completing his first full term.
A gifted actor who left his regular role on the NBC drama "Law & Order" in 2007 to run for president, Thompson starred in numerous films, including "The Hunt for Red October" and "In the Line of Fire," playing authoritative "solid guy" characters much like himself.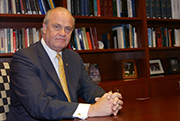 His acting career began when he was tapped to play himself in the 1985 movie "Marie." The film, starring Sissy Spacek, was based on the life of Marie Ragghianti, who—as head of the Tennessee Board of Pardons and Paroles in the mid-1970s—blew the whistle on a clemency-selling scandal that ended the career of the state's governor, Ray Blanton. Thompson had been Ragghianti's lawyer. By the time Sen. Baker talked Thompson into running for Senate in 1994, he had 18 movie credits.
"Fred Thompson was a principled public servant and a distinguished lawyer," said Chris Guthrie, Dean and John Wade-Kent Syverud Professor of Law. "He was an American original—smart, genuine and successful. Our thoughts are with his family."
Thompson was born on Aug. 19, 1942, in Sheffield, Ala., and grew up in Lawrenceburg, Tenn., where he was a top athlete. He earned his undergraduate degree in 1964 at Memphis State University (now the University of Memphis) and then his law degree at Vanderbilt Law School in 1967. In 1969, he was appointed an assistant United States attorney in Nashville. He then served as minority counsel to the Senate Watergate Committee. During the 1980s, he practiced law in Nashville and Washington, D.C., and served as special counsel to the Senate Foreign Relations Committee, special counsel to the Senate Intelligence Committee and on Tennessee's Appellate Court Nomination Commission.
Thompson published a memoir, Teaching the Pig to Dance, in 2010.
Thompson is survived by his wife, Jeri Thompson, and their children Hayden and Sammy; his brother, Ken; his adult children Tony and Dan; and several grandchildren.
In a statement, his family said that growing up in a small Tennessee town in "formed the prism through which he viewed the world and shaped the way he dealt with life" and reinforced for him the values of hard work and a belief in American exceptionalism. Fred was the same man on the floor of the Senate, the movie studio, or the town square of Lawrenceburg."