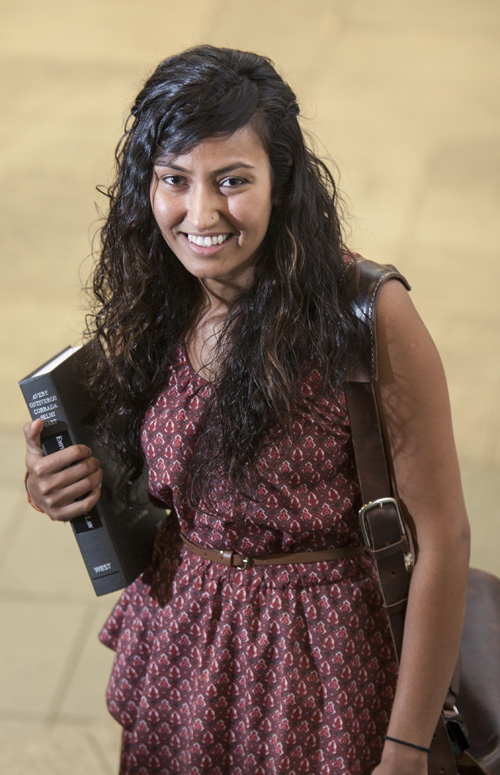 Vidhi Sanghavi, Class of 2015, has been chosen by the Skadden Foundation as a Skadden Fellow. Described as "a legal Peace Corps," the program funds outstanding law graduates to implement innovative public interest projects in conjunction with existing legal services organizations. Sanghavi is one of 28 fellows nationwide named to the 2015 class.
Sanghavi will work at the Legal Aid Society of Middle Tennessee and the Cumberlands, where she is currently an extern, to develop a legal advocacy program for poor individuals with criminal records. "In Tennessee, people with criminal convictions face immense barriers as they attempt to re-enter society," Sanghavi said. "A single conviction can rob a person of housing, employment, and the opportunity to build a dignified life. The goal of my project is to ensure that low-income individuals with criminal records have the opportunity to re-enter their communities and achieve self-sufficiency and economic stability."
"Vidhi is a trailblazer—an extraordinary young person who is exactly the type of person we need to enter the legal profession and advocate for justice," said Gary Housepian, executive director of the Legal Aid Society of Middle Tennessee and the Cumberlands. "Her project will be the first comprehensive civil legal services program in Tennessee designed to provide legal advocacy for individuals seeking to re-establish themselves as productive citizens after release from jail or prison. Vidhi's advocacy will benefit these individuals, their families and our communities."
Sanghavi is the fifth Vanderbilt Law graduate to be selected as a Skadden Fellow since 2007 and the second whose project will be based in Tennessee. Vanderbilt's Skadden Fellows have provided legal services to communities as diverse as disabled job-seekers, pregnant low-wage workers and children on TennCare.
The Skadden Foundation funds fellows' salary and benefits during the two-year fellowship term. Fellows are selected based on academic performance, demonstrated commitment to working in the public interest and the quality of the proposed project. Described by legal blogger David Lat as "the public-interest world's version of Supreme Court clerkships or Rhodes Scholarships," a Skadden Fellowship serves as a gateway into legal careers in service of the greater good.
"Vidhi's dedication to underserved communities is unwavering," said Spring Miller, social justice placement specialist at Vanderbilt Law School. "We are thrilled that with the support of the Skadden Foundation, she will be able to launch her public interest career by advocating for some of Tennessee's most vulnerable residents. The award of a Skadden Fellowship is an incredible honor and opportunity, and we are confident that Vidhi will make the most of it."
Sanghavi entered Vanderbilt Law School with the goal of a career in criminal justice. She was mentored by Miller, who was a Skadden Fellow with Southern Migrant Legal Services in Nashville from 2007-09, and by Terry Maroney, co-director of Vanderbilt's Social Justice Program, who began her legal career in 1999 as a Skadden Fellow at the Urban Justice Center in New York City.
During the summer of 2014, Sanghavi worked at the Southern Center for Human Rights in Atlanta as a Garrison Public Interest Fellow, helping an inmate at Alabama's Tutwiler Women's Prison win parole. During law school, she has worked as an extern with the Tennessee Office of the Post-Conviction Defender. Her current work at the Legal Aid Society involves helping individuals with criminal records find housing and employment and gain access to benefits.
Before entering law school, Sanghavi—who emigrated with her family from India as a child—graduated Phi Beta Kappa from Indiana University, Bloomington. In 2014, she received the Justice-Moore Family Scholarship at Vanderbilt Law School, which is awarded to students who show an interest in working in the nonprofit sector or in public service following graduation.
The Skadden Fellowship Program was established in 1988 in honor of the 40th anniversary of Skadden Arps Slate Meagher & Flom, an international law firm headquartered in New York. The 2015 class of fellows brings to 733 the number of law school graduates the firm has funded to work full-time for legal services and advocacy organizations. Former Skadden Fellows have gone on to hold high-level positions in legal advocacy, academia and government, and include the directors of numerous national and regional civil rights organizations, a U.S. senator, a Harvard Law professor and the general counsel of the U.S. Department of the Treasury.