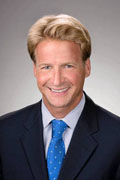 Zachary Fardon '92 (BA'88) was confirmed October 16 as the U.S. Attorney for the Northern District of Illinois. His appointment gained the unanimous approval of the U.S. Senate and was announced in statement from U.S. Senators Mark Kirk and Richard Durbin. Fardon replaces Patrick Fitzgerald, who stepped down more than 15 months ago after serving in the position for 11 years.
Fardon is a partner at Latham & Watkins in Chicago, where he chairs the firm's litigation department. His practice has focused on internal investigations, government investigations, white-collar defense and complex business litigation.
Before joining Latham, Fardon served for nearly a decade as a federal prosecutor in Illinois and Tennessee. During his tenure with the Department of Justice, he tried many high-profile cases, including the historic corruption trial in which former Illinois Governor George Ryan was convicted of racketeering, conspiracy, tax fraud and making false statements to the Federal Bureau of Investigation. He was an assistant public defender in Nashville before moving to Chicago in 1997 to become a federal prosecutor. He returned to Nashville in 2003 to serve as the First Assistant U.S. Attorney for the Middle District of Tennessee, where he supervised approximately 30 Assistant U.S. Attorneys and a caseload of criminal and civil matters. During 2005-06, he also worked as a special U.S. Attorney for the Northern District of Illinois to participate in the Ryan trial team.
Fardon received a number of awards for his work as a prosecutor, including multiple Department of Justice awards for superior performance, the Chicago Crime Commission Star of Distinction Award, the Frank J. McGarr Award for Excellence in Service to the United States, and the Cook County Crime Fighters Excellence in Law Enforcement Award.
Fardon lives in Evanston, Illinois, with his wife, Rachel Fardon '94, and their three children, and teaches Trial Advocacy as a member of the adjunct law faculty at Northwestern University.