The endowment of a permanent director of the Diversity, Equity and Community Office in honor of the late Professor Robert Belton enables VLS to build on its long-term commitment to diversity, inclusion and racial justice.
By Grace Renshaw
One evening in the fall of 1956, Fred Work '59 received a warning phone call from his classmate Melvin Porter '59. Work and Porter had just entered Vanderbilt Law School as the first two African American students admitted.* They had arrived on the first day of class to find white sheets of paper covered with black dots affixed to every tree leading to Kirkland Hall, where the law school was then located. "This was not a sign of welcome," Work recalled in a 2007 interview.
Porter informed Work that a carload of white people was en route to his house. When Work's doorbell rang 10 minutes later, he peered out the window to see his front porch crowded with white men. Work was wearing a pair of slacks and a robe. He considered not answering the door but then recalled that his family had an antique pistol. He tucked it into the pocket of his robe and opened the door. To his surprise, he was greeted by a well-intentioned group of Vanderbilt Law alumni. Embarrassed by negative articles about the law school's integration that had appeared in local newspapers, the men wanted to assure Work and Porter that they were welcome at Vanderbilt Law School. "They had come to encourage us and offer to help us in any way they could," Work said.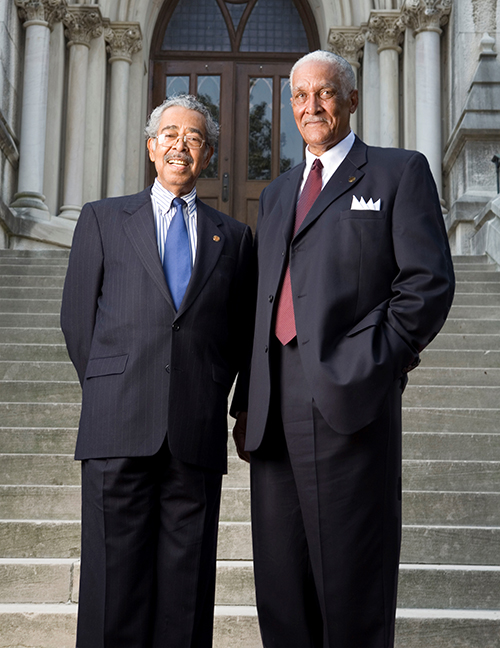 Work invited the visitors in. After they left, he exhaled and took the gun out of his robe to put it away. It went off, barely missing his foot. Work was living with his parents, who taught at Fisk University. "You can imagine what a commotion that caused," he said.
Vanderbilt became the first Southern law school to integrate with the admission of Work and Porter in 1956.* But both men recalled their first year at Vanderbilt as stressful. "The faculty were very helpful, and Dean [John] Wade was committed to the success of this process," Work recalled. "But certainly, some students—especially those in leadership positions—could have been more instrumental in making the atmosphere better."
Making the atmosphere at Vanderbilt better is one of many important goals of the law school's Diversity, Equity and Community Office, formed last summer by Dean Chris Guthrie with support from faculty, students and staff. "Lawyers can bring about tangible progress toward building a more democratic, just and equal society," Guthrie said. "We want to foster an atmosphere at VLS where people with diverse backgrounds, identities and perspectives all feel welcome and included and find opportunities to learn and contribute, and we want to educate lawyers who will bring that perspective to their work and communities wherever they live and practice."
Placing the law school's diversity and inclusion programs and initiatives under the oversight of a single office with a dedicated director was a key recommendation of three task forces of faculty, students and staff. Guthrie formed the groups last June after the deaths of several Black Americans as a result of police brutality and racial violence sparked a much-needed national conversation about systemic inequities in the criminal justice system. "I wanted to identify immediate actions and long-term initiatives we should take as a faculty, staff and student body to address racial inequities and injustices at the law school, in our community and beyond," he said.
Anonymous donors soon stepped forward to endow a permanent position directing the new office in honor of the late Professor Robert Belton, who became the law school's first Black tenured faculty member in 1982. Guthrie is excited about the opportunity to build on the law school's history of supporting diversity and inclusion, which started with Wade's decision to integrate the law school in 1955, almost a decade before Vanderbilt University admitted its first Black undergraduates. He also is gratified to see Belton's legacy honored in such a meaningful way. "Bob Belton was a pioneering lawyer and employment law scholar who took very seriously his role as a mentor to our students," Guthrie said. "By funding a permanent director of our Diversity, Equity and Community program in his honor, two generous and thoughtful donors have anchored our program and solidified Bob's legacy as a role model and teacher."
---
"My father truly enjoyed teaching at the law school, specifically the vigorous debates he had with students in and outside the classroom around equity. It's an honor that the Diversity, Equity and Community directorship will bear his name, as that demonstrates the impact he had within the VLS community. My family looks forward to attending DEC lectures, and we thank the donors who made the endowed position possible."
—Keith Belton
---
Belton joined Vanderbilt's law faculty in 1975 after 10 years of legal practice, and he taught for 35 years before retiring in 2009. His prior work included five years as a litigator with the NAACP Legal Defense and Educational Fund, where he led a national civil rights litigation campaign to enforce a then-new federal law prohibiting employment discrimination based on race and sex. Belton played a major role in a landmark Supreme Court civil rights case decided in 1971; his book, The Crusade for Equality in the Workplace: The Griggs v. Duke Power Story, was published in 2014, two years after his death.
Like Fred Work and Melvin Porter, Belton understood the pressures of being a pioneer. He had practiced at one of the first integrated law firms in North Carolina after earning both of his degrees at two majority white universities in the Northeast in the early days of integration. His recollection of the isolation he and his fellow Black students felt while earning degrees at the University of Connecticut and Boston University School of Law motivated him to advocate for minority students and faculty at Vanderbilt.
As the first to hold the title of Robert Belton Director of Diversity, Equity and Community, Associate Dean Yesha Yadav balances the weight of responsibility she feels for launching the office with her excitement about the office's mission of building a more inclusive and anti-racist community in every area of law school life. She and Guthrie both emphasize that establishing a permanent office of Diversity, Equity and Community is a foundational step. "For me, the most important thing was how willing Dean Guthrie and the administration were to put resources, ideas and support behind this office and see it succeed and flourish at the law school," Yadav said. "Since this is a brand-new office, it feels like a startup—one that means something incredibly important to me."
Since her appointment last July, Yadav has worked with members of the law school's Equity, Diversity and Inclusion Council, which is a group of student leaders, faculty and staff that Assistant Dean of Student Affairs Chris Meyers first assembled as an informal working group. "We have a unique culture that makes Vanderbilt different from other law schools," Meyers said. "I thought, what if we all got together and explored how we could do a better job as an institution of ensuring the student experience of our culture is equally welcoming and inclusive for everyone?" Students found the meetings so valuable and productive they asked Meyers to make EDI Council permanent; it's now an advisory group of representatives from each of the law school's nine affinity groups that works with faculty and staff on a variety of initiatives.
Yadav had served as the council's first faculty adviser. When she accepted the appointment to head the new DEC office, she turned to Meyers and council members, including Black Law Students Association President Samantha Furman '21, for help planning activities and initiatives the new DEC program could launch during the pandemic. By that time, it was midsummer, and both Furman and Yadav knew they were unlikely to be on campus in the fall. Furman had chosen to take her 3L classes remotely and Yadav to teach her classes on the Zoom platform. "Promoting unity and diversity is especially challenging when members of our community cannot meet in person," Furman said.
With student leaders and school administrators all pitching in to help launch DEC's new initiatives during the pandemic, the new office has developed several new programs to foster education, conversation and mentorship across the Vanderbilt community. These include a Dean's Lecture Series on Race and Discrimination, featuring the work of an interdisciplinary group of nationally recognized scholars in civil rights, racial justice and discrimination, including law professor Daniel Sharfstein; leading historians Kimberly Welch, Brandon Byrd and Rhonda Williams; education and public policy expert Matthew Shaw; and renowned psychiatrist Jonathan Metzl. The DEC also started a community-wide Book Club on Racial Justice and Civil Rights, which featured Professors Sara Mayeux, Jessica Clarke, Terry Maroney and Dan Sharfstein leading thoughtful, provocative discussions of Isabel Wilkerson's Caste, Dorothy E. Roberts' Fatal Invention, Paul Butler's Chokehold and Kenneth Mack's Representing the Race.
Yadav also worked with the Career Services Office, the Alumni Office, the Vanderbilt Bar Association and the EDI Council to develop a DEC-sponsored Mentorship Program for Underrepresented Students designed to foster lifelong connections between alumni and current 2Ls and 3Ls. This fall, Meyers will launch another new program, 1Levate, to offer leadership training and mentoring to incoming 1L students from underrepresented communities. "1Levate is aimed at first-generation law students, who will be selected based on leadership potential," he said. "The program will host a special orientation before regular student orientation and programming throughout the year, and students will be matched with a prominent local attorney who will mentor them throughout their 1L year."
VLS has taken another action this year that Furman considers crucial: Students are now more actively and systematically involved in the recruitment of new faculty and staff. They also work more closely with Admissions staff in recruiting students for incoming classes. "We've seen tangible results of our involvement with faculty and student recruiting, and we've been able to connect with prospective students directly," Furman said.
Sickened by the video of George Floyd's death last June, Furman and other members of BLSA's executive board issued a statement asking the law school and the entire Vanderbilt community to stand in solidarity with students of color against police brutality and racism. "Everyone was unanimous about wanting to put out a statement—we felt it was our responsibility," Furman recalled. "Any witness to that kind of murder would find it traumatizing, but to see it happen in the middle of the day in broad daylight felt like a total disregard for humanity."
Vanderbilt's BLSA chapter joined with BLSA chapters throughout the U.S. issuing similar statements articulating students' anger and fear in the wake of Floyd's death and the deaths of Breonna Taylor, Tony McDade and Sean Reed at the hands of police officers; the fatal shooting of Black jogger Ahmaud Arbery by white residents of a South Georgia neighborhood who were arrested only months later after public outcry; and the death of Dallas resident Botham Jean, shot in his own apartment by an off-duty police officer. The VLS BLSA statement ended with a call to action:
"We are calling on our classmates, faculty and the Vanderbilt University administration to stand with us in outwardly denouncing police brutality, white supremacy, and all forms of racial injustice by taking action."
Guthrie was determined to respond with concrete actions aimed at effecting long-term change—a strategy he believes is hard-wired into the law school's culture. He points out that 2021 marks the 65th anniversary of a Ford Foundation grant that enabled the law school to establish the Race Relations Reporter, the first scholarly publication focusing exclusively on law related to race produced by a law school. Published from 1956 to 1972, the Reporter was initially funded by a $200,000 grant—a considerable amount at that time. "The Race Relations Law Reporter was established to present, in complete, objective fashion, the primary legal materials of the time dealing with the subject of race," said former VLS Associate Dean Don Welch, whose history of Vanderbilt Law School was published in 2012. "It catapulted Vanderbilt onto the national scene. At one time, the Reporter had a circulation among legal periodicals second only to that of the Harvard Law Review."
The late Ted Smedley, who joined Vanderbilt's law faculty in 1957 as the Reporter's faculty director, recalled that the initial grant had been for a two-year period. "They—and we!—had the idea that most of the problems would be solved in that time," Smedley later recalled. "That seems a little humorous now."
During the 16 years Vanderbilt published the Race Relations Reporter, the law school began admitting women in greater numbers and hired its first female tenure-track professor, Allaire Karzon, who received tenure in 1983, a year after Belton became Vanderbilt's first Black tenured law professor. This spring, Vanderbilt Bar Association President Esther Lee '21 worked with the EDI Council and the Women Law Students Association to organize a panel discussion addressing sexism in the legal profession and the difficulties women lawyers still experience in finding female mentors. "Law is still a male-dominated profession," Lee said. "We wanted to focus on building community for women in the law."
Affinity groups such as the Women Law Students Association, formed in the mid-1970s, have helped underrepresented students adapt to law school and the legal profession. Since WLSA's establishment, VLS students have formed OUTLaw, which supports LGBTQ students, and groups that support students of many ethnicities and religious traditions. BLSA and OUTLaw member Miles Malbrough '22 credits the national outcry over police brutality this summer as heightening awareness of the need to take concrete actions to promote diversity in all aspects of law school life. "Not all of the journals had a diversity component as part of their write-on process before last summer, and now they do," Malbrough said. "This year student leaders were part of the interview process for faculty candidates, and we can now work with Admissions to help recruit a more diverse incoming class."
The endowment of a permanent director for the law school's Office of Diversity, Equity and Community in honor of Robert Belton, Guthrie believes, cements the law school's institutional commitment to diversity and inclusion. Going forward, the office will support Admissions, Student Affairs and other law school departments, and partner with the Social Justice, Public Interest, Criminal Justice and other academic programs to develop classes, research projects and opportunities for pro bono legal work designed to address systemic racial inequities and an inequitable criminal justice system.
"As lawyers, we aspire to uphold the rule of law, ensure equal treatment for all, and protect individual rights," Guthrie said. "Last summer we saw how far we are from those aspirations. Our goal as a law school and a profession is to close that gap."
---
Identity groups at VLS
Asian-Pacific American Law Student Association
Black Law Students Association
Jewish Law Students Association
Law Students for Veterans Affairs
Middle Eastern Law Student Association
South Asian Law Students Association