At a congressional hearing leading up to the Airline Deregulation Act of 1978, American Airlines CEO Bob Crandall approached one of the act's architects, policy aide Phil Bakes, during a break. Calling Bakes an "academic pinhead," Crandall unleashed an expletive-laced tirade, concluding with "You can't deregulate this industry, you're going to wreck it."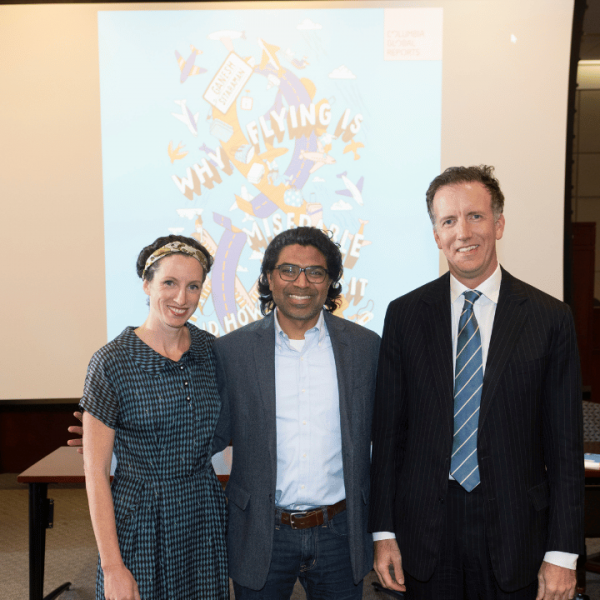 Ganesh Sitaraman's latest book, Why Flying Is So Miserable and How to Fix It, reveals the myriad reasons why Crandall's crudely expressed prediction proved accurate. Flying is a miserable experience for American travelers, Sitaraman argues, because of public policy choices, including the choice to deregulate the airlines.
Airline deregulation, Sitaraman writes, has ultimately led to little competition in the industry, headaches and frustrations for passengers from junk fees to delays and cancellations, loss of service to some American cities, and taxpayer bailouts and support programs.
"There is nothing natural, magical, or inevitable about the way we run our airlines," said Sitaraman, the New York Alumni Chancellor's Chair in Law and Director of the Vanderbilt Policy Accelerator. "Given how vital air travel is to ordinary Americans and our overall economy, there's no reason flying should be this frustrating."
Sitaraman's book tells the story of the genesis, rise, and fall of a system of economic regulation for the airline industry that prevailed from the 1930s until the end of the 1970s, when the Airline Deregulation Act passed. Back then, an intellectual shift among economists and policymakers predicted that a free market approach to the airline industry would lead to better prices and more competition. But instead, the industry has consolidated significantly, with less competition and reductions in the quality of service.
Sitaraman decided to write a book about the airline industry while researching a chapter on airlines for a new casebook, Networks, Platforms, and Utilities: Law and Policy, published in 2022, which he wrote with three co-authors, including Vanderbilt Law colleague Morgan Ricks. Ricks interviewed Sitaraman about his book as part of a celebration of its release, hosted by the Dean's Office at Vanderbilt Law School.
To address the problems in the industry, Sitaraman identifies three principles for regulating airlines going forward:
No more flyover country. Air service must be available all across the country, including to mid-sized and smaller cities.
No bailouts, no bankruptcies. The nation needs a stable, reliable, resilient, and innovative airline industry that works all the time and isn't vulnerable to failure in crises.
Fair and transparent pricing that supports these goals.
Why Flying Is Miserable and How to Fix It was released by Columbia Global Reports on November 14 and is available everywhere books are sold.