Last month, the Vanderbilt Policy Accelerator for Political Economy & Regulation (VPA) announced a new series of polling and papers on the regulation of Artificial Intelligence (AI), which has captured the nation's attention since the release of ChatGPT a year ago.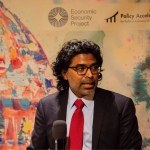 Ganesh Sitaraman, New York Alumni Chancellor's Chair in Law at Vanderbilt Law School and Founding Director of VPA, co-authored a paper and accompanying policy brief with Berkeley Law Professor Tejas Narechania that outlines an antimonopoly approach to AI regulation, with public utility regulations, industrial policy tools, and a public AI option. Sitaraman and VPA Policy Analyst Ramsay Eyre also authored a separate paper that proposes creating a U.S. Artificial Intelligence Service that can support future technology needs without reliance on outsourcing. They also made the case for building public AI capacity in a Politico opinion piece.
"For all the intense debate about how to regulate AI, far too little attention has been paid to AI's industrial organization and market structure," says Sitaraman. "This is a problem because a few big tech companies control many aspects of what is called the AI 'tech stack.'"
VPA polling found widespread, bi-partisan support for breaking up big AI companies, regulating companies that control cloud computing processing power as public utilities, and a publicly run cloud computing system.
"When Americans learn about the corporate concentration of the AI industry, they are concerned," Sitaraman said.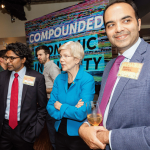 VPA took its findings and recommendations to Washington, D.C. at the end of October for presentations to a variety of audiences. VPA cohosted Antimonopoly in the Age of AI: A Conversation with Chris Hughes and Ganesh Sitaraman with the Economic Security Project on October 25th. Sitaraman and his team also briefed staff at the White House, the Federal Trade Commission, and on Capitol Hill. Sitaraman participated in the latest session of the U.S. Senate 'AI Insight Forum' hosted by Senate Majority Leader Schumer on November 8th.
"VPA is emerging as a leader on AI policy and these ideas are gaining traction," said Executive Director Grace May.
VPA is part of Discovery Vanderbilt, a groundbreaking initiative to bolster innovative research and education at Vanderbilt. "VPA's innovative work in AI regulation embodies our commitment to shaping technology policy and addressing global challenges through transformative research," said Provost C. Cybele Raver.
The mission of the Vanderbilt Policy Accelerator for Political Economy and Regulation is to swiftly develop and advance cutting-edge research, education, and policy proposals at a pace that aligns with the urgency of today's challenges.
To learn more, visit Vanderbilt Policy Accelerator.