Alana Seixas and Lynn Stopher named 2018 George Barrett Social Justice Fellows
May 17, 2018
2018 VLS graduates Alana Seixas and Lynn Stopher have been named Vanderbilt's George Barrett Social Justice Fellows for 2018-19. The one-year fellowships are awarded annually to up to two members of the graduating class who plan to launch careers in public interest law.
Their fellowship appointments were announced by Chris Guthrie, Dean and John Wade-Kent Syverud Professor of Law. Stopher was the 2018 Judge Martha Craig Daughtrey Scholar; Seixas was the 2018 Garrison Social Justice Scholar.
Applicants for the Barrett Fellowship propose one-year projects at a legal nonprofit organization. Seixas will spend her year at the Children's Law Center in Lexington, Kentucky; Stopher will work at the National Immigrant Justice Center in Chicago. Their one-year fellowships pay their salaries and benefits at the sponsoring organization.
"I am excited to announce the appointments of Lynn Stopher and Alana Seixas as our 2018 George Barrett Social Justice Fellows," Dean Guthrie said. "Both have demonstrated an unwavering commitment to work in the public interest for underrepresented clients throughout law school, and I look forward to the contributions they will make at the National Immigrant Justice Center and the Children's Law Center and throughout their careers."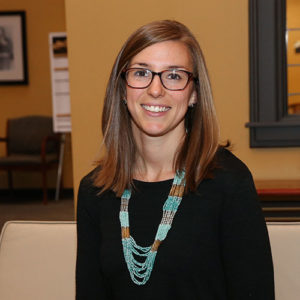 At the National Immigrant Justice Center, Stopher will work on behalf of adult immigrants into whose care the U.S. government has released children who crossed the border unaccompanied by a parent or guardian. She will serve clients in a three-state area from NIJC's Chicago offices. "Nearly 3,500 immigrant children have been released to the care of family members in Illinois, Indiana and Wisconsin since October 2013," she explained. "Advocates have focused on securing legal services for children who have crossed the U.S.-Mexico border alone. I want to expand that focus to include the noncitizen family members who end up responsible for their care, many of whom have lived in the U.S. for years."
Many immigrants now serving as guardians originally came to the U.S. fleeing persecution in their home countries and thus have viable claims for relief, according to Stopher. "Without legal representation, family members of unaccompanied children may be detained and deported to dangerous conditions, and unaccompanied children risk prolonged detention if their family members cannot take custody of them without placing themselves in danger of deportation," she said. "My project aims to promote safety and family unity by safeguarding the ability of sponsors of unaccompanied immigrant children to pursue the legal relief to which they are entitled."
Stopher received the Bennett Douglas Bell Memorial Prize for the Class of 2018. She was a legal intern at the National Immigrant Justice Center in summer 2016 and fall 2017 and worked as an intern for Human Rights Watch during summer 2017. In addition to her Vanderbilt J.D., she holds an M.Ed. from Harvard University and a B.A. from the University of Virginia. Before law school, Stopher worked for two educational nonprofits, Building Educated Leaders for Life and Apportunidades, based in Boston and in Cota, Colombia.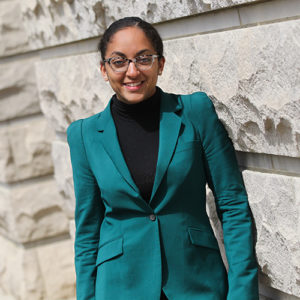 At the Children's Law Center, a nonprofit legal center aimed at protecting the rights of youth in the criminal justice system in Kentucky and Southern Ohio, Seixas plans to start a civil advocacy project serving students in state custody, with the goal of ensuring that they receive appropriate educational services. "Most children in the criminal justice system have special education needs, but appropriate services are often abandoned when youth enter Kentucky's Department of Juvenile Justice," Seixas said.  "I will advocate for the unmet civil legal needs of youth in the justice system throughout Kentucky."
Although states are required to meet the educational needs of children in criminal custody, Seixas has discovered that vigilant advocacy is needed to ensure this requirement is met. "Youth in confinement are often deprived of their right to a free and appropriate education both during and after detention," she said. "When juvenile correctional education programs fail to identify, assess and provide for the most at-risk youth, they not only violate their state and federal rights but endanger their physical and mental well-being."
Seixas's project at the Children's Law Center will fill an important gap by focusing on civil legal services. "Youth in the custody of the Kentucky Department of Juvenile Justice receive legal representation in their criminal cases, but too often the denial of their access to appropriate educational and behavioral health services goes unaddressed. As a result, they are suffering major setbacks if they end up in state juvenile detention facilities, where the average stay is eight months to a year," Seixas said.
Seixas received the Damali A. Booker Award for the Class of 2018. She worked at the Children's Law Center in summer 2017. She entered law school intent on a career in juvenile justice and spent summer 2016 working with the Education Rights Project of the Nashville Defenders. She earned her undergraduate degree in economic sociology at Cornell University and worked for Lawyers for Children in New York, New York, and for the Advocacy Center of Tompkins County in Ithaca, New York, before law school.
---