Jim Rossi and Christopher Serkin win 2020 Morrison Prize for best scholarship on sustainability
Feb 26, 2020
Jim Rossi and Christopher Serkin have won the 2020 Morrison Prize for best scholarship in environmental law with their co-authored paper "Energy Exactions."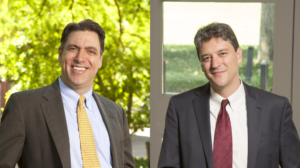 Rossi holds the Judge D.L. Lansden Chair in Law and serves as associate dean for research; Serkin holds the Elisabeth H. and Granville S. Ridley Jr. Chair in Law and serves as associate dean for academic affairs. Both are affiliated with the Energy, Environment and Land Use Program at Vanderbilt Law School.
The paper proposes the use of "exactions" — fees or other requirements routinely imposed by local governments on real estate developers to ensure they bear all or a portion of the cost burdens their development projects place on schools, roads, water and other local services — be extended to include the cost of the additional energy burden each new real estate project creates. "This is one essential type of cost burden that is seldom accounted for up front," Rossi said. "That's a missed opportunity in several ways, including planning for sustainable energy."
"We propose that local municipalities could use exactions to hold real estate developers more accountable for their impacts on the electricity system," Serkin said. "Municipal governments and developers are both familiar with exactions; expanding their use to include their impact on the energy infrastructure is both practical and fair."
Electric utilities, typically regulated at the state level, continuously expand their infrastructure to accommodate urban growth and then pass along the costs of those expansions to their ratepayers. Although this approach provides a funding source for new power lines, it creates minimal incentives for utilities to promote sustainable energy strategies.
The Morrison Prize was established in 2015 to honor the authors of the most impactful sustainability-related legal academic article published in North America during the previous year. The annual Morrison Prize Contest is administered through the Law and Sustainability Program at the Arizona State University's Sandra Day O'Connor College of Law. As winners of the 2020 Morrison Prize, Rossi and Serkin receive a $10,000 cash prize. The prize is named after its benefactor, Richard N. Morrison, who is also a co-founder of the Morrison Institute for Public Policy at ASU.
"I am pleased that Jim Rossi and Chris Serkin's impactful work has been recognized by this prestigious prize," said Chris Guthrie, dean and John Wade-Kent Syverud Professor of Law. "I'm grateful to ASU and the Morrison Prize Contest for recognizing scholarship in the important area of environmental sustainability and hope this recognition draws more attention to a thoughtful, practical proposal on how municipalities think about energy resources in the land use and development process."
In their paper, Rossi and Serkin argue that energy exactions could be a powerful way to encourage developers to incorporate more energy-saving technologies, rooftop solar and other sustainable energy strategies into their projects.
Although a growing number of builders promise "net carbon zero" development as part of their marketing strategy for new projects, Rossi and Serkin suggest that adding requirements to the land-use permitting process would back up those promises and ensure that developers truly bear more of the energy burden of their activities.
Municipal energy exactions, Rossi and Serkin say, would improve long-term planning by changing a system that relies on state regulators and private utilities to make the most critical decisions affecting energy demand into one that more heavily involves real estate developers and local governments in that process.
"Faced with the prospects of global climate change, limits on fossil fuels, and slow deployment of renewables, the current system makes little sense," they write. "It is often far better and cheaper to slow the growth in customer demand for energy than to speed up investments in utility-owned power supply."
Rossi and Serkin point to flaws in the conventional energy-planning process, in which private utilities present customer-demand forecasts to energy regulators, who then evaluate the various options for expanding energy supply infrastructure to meet that demand.
"Under this paradigm, a utility's proposed energy resources that advance customer reliability goals are routinely approved by regulators, who prioritize systemwide reliability in their planning decisions," they write.
"Regulators' primary fixation on the approval of power supply capacity to meet forecasted needs (where customer demand is a mere input) gives short shrift to the potential that customer demand itself can provide an energy resource."
Rossi and Serkin point out that unconsumed energy — either through efficiency or conservation — is effectively the same as additional production, but that it is harder for utilities to capture the economic value of that unconsumed energy.
"The failure to recognize the potential of customers as energy resources is a major flaw with traditional utility planning," they write, arguing that when customers are incentivized to conserve energy, they can significantly reduce peaks and overall usage. Customers can also self-generate energy through technology such as distributed solar.
Rossi and Serkin further point out that local energy exactions could produce valuable information about energy demand, diversify risks in infrastructure investment, and promote intergovernmental competition to promote grid reliability and carbon reduction. In short, they argue that exactions could bring significant improvement over the conventional state utility-planning and rate-setting process, which "often produces concentrated benefits for the few at the expense of the many" and "has done a poor job of encouraging demand reduction, distributed energy supply, and a resilient energy grid."
"Energy Exactions" is the second work by a pair of Vanderbilt scholars to be honored with the Morrison Prize since the peer-reviewed competition began in 2015.  In 2017, Michael P. Vandenbergh, who holds a David Daniels Allen Distinguished Chair of Law, and Jonathan Gilligan, associate professor of earth and environmental sciences, won the prize for their book, Beyond Gridlock, which underscored the difficulties of effecting change through government and highlighted the underutilized potential to reduce greenhouse-gas emissions through the private sector.
Troy Rule, faculty director of the Law and Sustainability Program at ASU Law. says Rossi and Serkin, like past winners of the Morrison Prize, have provided innovative ideas that can effect significant change. "This year's winning paper contains ideas that could truly move the needle in building a more sustainable society," he said.
"Energy Exactions" was originally published in the March 2019 issue of the Cornell Law Review. Rossi and Serkin will travel to Phoenix to present their article and formally accept the prize at the sixth annual SRP Sustainability Conference of American Legal Educators
---