VLS Office of Public Interest partners with Tennessee Justice for Our Neighbors to offer immigration intake clinics
Feb 14, 2020
Twelve Vanderbilt Law students are working pro bono at the Woodbine Immigration Intake Clinic in Nashville through a Vanderbilt partnership linking Tennessee Justice for Our Neighbors, a nonprofit organization providing affordable legal immigration services, and the law school's Public Interest Office. The student volunteers work with Alvaro A. Manrique Barrenechea (LLM'19) to staff free immigration intake clinics TnJFON offers at Woodbine United Methodist Church.
The students applied to join the TnJFON volunteer team last fall through the Office of Public Interest, committing to work at five immigration intake clinics throughout the year. "Our goal for the first year was to serve 30 individuals in clinics scheduled in both fall and spring semesters," Manrique Barrenechea said.
The clinic partnership kicked off with an orientation session at which Manrique Barrenechea trained the student volunteers to conduct detailed screening interviews with clinic attendees to identify potential clients who could benefit from the pro bono legal assistance TnJFON provides. Chay Sengkhounmany of the Legal Aid Society of Middle Tennessee and the Cumberlands and Rodrigo Valle of Bass Berry & Sims also spoke about their experiences practicing immigration law.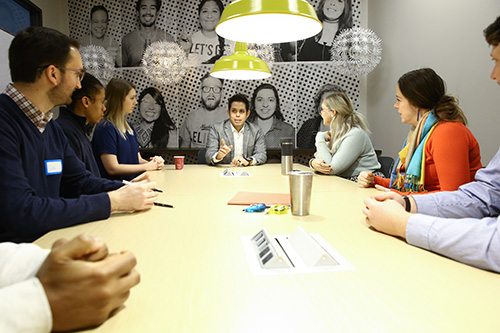 While Spanish language skills are a plus, Manrique Barrenechea says that team members can interview many potential clients in English. "We serve a large number of clients whose parents brought them to the U.S. as young children," he said. "They have lived here most of their lives and come to the clinic to find out if they can qualify for a change in their immigration status."
Teams of student volunteers are assigned to interview one potential client at each clinic. "The intake interviews that students conduct help us gather enough information so our attorneys can determine if the individual is eligible for relief," Manrique Barrenechea said. "Then the students sit in and observe as our attorneys use that information to counsel clients and explore the options available to them. They learn valuable interviewing, issue-spotting and counseling skills."
Joe Sandford '20 was recruited by Assistant Dean for Public Interest Spring Miller in spring 2019 to lead the program and help select team members. "We wanted to identify a diverse group of students from different classes who would be committed to this project and the clients," Sandford said.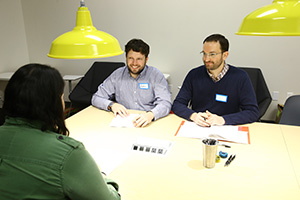 Sandford was eager to help launch the intake clinic because he was taking the Immigration Practice Clinic taught by Clinical Professor of Law Karla McKanders and realized how often the criminal justice and immigration systems intersect. He plans to work as a public defender after graduation and saw the clinic as an opportunity to hone his interviewing skills and do meaningful pro bono work. "In both criminal defense and immigration cases, you learn that everybody has a unique story," he said. "The criminal justice system is pervasively involved in people's lives, and as a criminal defense lawyer, you're bound to have cases involving noncitizens."
Manrique Barrenechea joined TnJFON's staff as assistant director of education and outreach after earning his LL.M. at Vanderbilt Law School in May 2019. A native of Lima, Peru, he holds a law degree from the Universidad de Lima and practiced law in Lima for two years before moving to the Nashville in 2015. At TnJFON, he oversees the Woodbine Clinic, helps implement the organization's newest education initiative, "Families Together," and provides support in other immigration cases as he prepares to sit for the New York Bar examination.
"Vanderbilt has long valued its relationship with JFON, and we are thrilled to be embarking on this new collaborative project, where students have committed to 420 hours of pro bono legal work," Miller said.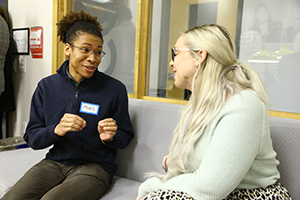 Miller and Sandford recruited the first team of students last fall after working with TnJFON Legal Director Bethany Jackson to set up the partnership. "At the Woodbine Immigration Intake Clinics, our students support JFON's efforts to provide critically needed legal services to some of our most vulnerable community members and neighbors," Miller said. "This partnership provides an exciting opportunity for them to gain substantive legal experience and work with experienced immigration attorneys."
Even when intake screenings don't yield information that makes an individual eligible for immigration relief, they provide a valuable educational service, according to Manrique Barrenechea. "We provide them with accurate information, so they are less vulnerable to scammers who promise relief that's not actually available, and we answer their questions," he said.
Members of the 2019-20 Woodbine Immigration Intake Clinic student team include: Joe Sandford and Kelly Choi of the Class of 2020; Stefan Berthelsen, Julia Foley, Ayanna Hill, Hannah Masters, Andrew Merritt and Kareim Oliphant of the Class of 2021; and Miles Malbrough, Payton Hampton, Hallie Hite and Daniel Sweat of the Class of 2022.
Students may apply to join the 2020-21 team at the beginning of the fall 2020 semester.
---