Weaver Family Program in Law, Brain Sciences, and Behavior established at VLS with $3.85 million endowment from Weaver Foundation
Feb 9, 2023
Vanderbilt Law School is launching a new interdisciplinary program, the Weaver Family Program in Law, Brain Sciences, and Behavior, funded by a $3.85 million endowment from the Glenn M. Weaver Foundation. The new program will sponsor faculty research aimed at exploring law and human behavior across a broad spectrum of medical, biological and social science fields, and organize and host symposia and distinguished lectures featuring leading researchers working at the intersection of law, brain sciences and behavior.
The interdisciplinary research program—the first such program to be based at the Law School—was announced by Vanderbilt Law Dean Chris Guthrie and Weaver Foundation Trustee Ellen Weaver.
The Weaver Foundation previously established the Dr. Glenn M. and Mary Ellen Weaver Faculty Research Fund at Vanderbilt Law School in 2017 and endowed the Glenn M. Weaver, M.D., and Mary Ellen Weaver Chair in Law, Brain, and Behavior in 2019. Owen Jones, who holds the Weaver Chair, will direct the program.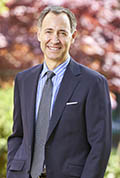 "I am so grateful to Ellen Weaver and the Weaver Foundation for their generosity. We are honored to breathe life into Dr. Glenn Weaver's vision to deepen our society's understanding of the brain sciences, behavioral sciences and law," Guthrie said. "I am also thrilled to appoint Owen Jones, who holds the Weaver Chair, to direct this exciting and innovative program. Under Owen's leadership—and with the engagement of law faculty, other faculty colleagues on campus, and leading scholars around the globe—I  am confident this program will transform our understanding of the mind sciences and law."
In addition to his appointment at Vanderbilt Law School, Jones is a professor of biology at Vanderbilt University. He created and directed the MacArthur Foundation Research Network on Law and Neuroscience, an interdisciplinary team of brain scientists and legal scholars at leading universities throughout the U.S., funded by four grants from the MacArthur Foundation, which has published over 100 brain-scanning and theoretical works since 2011.
"The pace of technological change and scientific discovery in the brain sciences has increased dramatically. That offers both advantages and challenges for the legal system, which makes this a perfect time to launch a new initiative like this," Jones said. "With the Weaver Foundation's investment, we'll be able to ensure continuous interdisciplinary engagement, and foster new research that's both cutting-edge and useful."
The new program has been endowed in honor of Dr. Glenn M. Weaver, his wife Mary Ellen Weaver, and the Weaver family. Dr. Weaver was a leading clinical and forensic psychiatrist who practiced in Cincinnati for more than 55 years and directed the psychiatry department at Christ Hospital in Cincinnati for 25 years. A pioneer in the field of forensic psychology, he became one of the first medical professionals in his region to be board-certified in forensic psychiatry and taught Law and Psychiatry as an adjunct professor at the University of Cincinnati College of Law. He was certified by the American Board of Psychiatry and Neurology, and his distinguished career included teaching for more than 20 years at the University of Cincinnati College of Medicine and serving as coordinator of teaching and psychiatry at Christ Hospital.
Dr. Weaver founded the Weaver Institute for Law and Psychiatry at the University of Cincinnati in 1997 to connect legal and mental health scholars and promote teaching and scholarship in forensic psychiatry.
Vanderbilt Law School has trained outstanding lawyers for careers throughout the U.S. and around the world for more than 145 years. The law school is one of 10 schools of Vanderbilt University, which was founded in 1873 in Nashville, Tennessee.
---
Alumni Faculty News General News Home Page News Weaver Research Program