Class of 1981
Class Notes are posted in the order they are received, with the newest posts on top.
Do you have news you would like to share or just want to let everyone know what you are up to these days? Submit your class note online, email Class Notes or call 615-322-2606.
---
Scott E. Dwyer was elected for the calendar year 2021 to the Management Committee for the law firm Mika Meyers. Posted 8.27.21
Lisa McLaughlin is the Managing Member of MGD Law (a firm located in St. Louis, Missouri), a member of the American College of Trusts and Estates Counsel, and the Chair of the Missouri Historical Society.  She was profiled in the Spring 2021 issue of the VANDERBILT LAW Magazine: Smooth Sailing for Lisa McLaughlin '81, Alumni Spotlight by Kent Halkett '81.  Read more on page 43 here.. Posted 6.1.21
Kent Halkett is an advocate for better education on the mental health challenges in the legal profession.  His article, titled A BigLaw partner's journey through clinical depression, published in the ABA Journal on April 23, 2021, spread the message to a national audience.  Read the full article here. Posted 5.25.21

Kent Halkett's article, titled Stop the "Insanity": Mandating Mental Health Education in Law School, was published in the Los Angeles Lawyer magazine (April 2021).  It calls for the American Bar Association, law schools and state supreme courts to impose mental health education in law schools and required continuing legal education. Read the full article here. Posted 5.5.21
Kent Halkett's article, titled Mental Health in the Legal Profession: A Crisis, a Case Study and a Call to Action, was published as the cover story in the Tennessee Bar Journal magazine (Jan - Feb 2021 issue).  It provides personal insights and a face to a serious crisis. Read the article here. Posted 1.25.21
David Roseman left the office of Seyfarth Shaw LLP, to open a solo practice in San Francisco as the Law Office of David B. Roseman. Posted 12.2.20
Thomas Varlan has been a District Court Judge (E.D.Tenn.) in his hometown, Knoxville, since 2003. He was profiled in the Winter 2020 issue of the VANDERBILT LAW Magazine: Judge Thomas Varlan '81, A Profile by Kent Halkett '81. Read more on page 38. Posted 4.30.20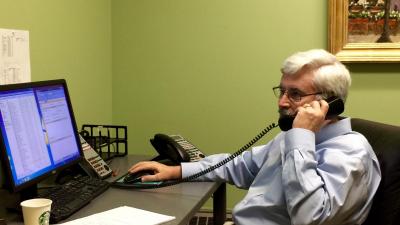 Kent Halkett provides advice and guidance on Tennessee laws and procedures to individuals, from anywhere in the world, who call the free legal helpline (1-844-HELP4TN or 1-844-435-7486) operated by the Tennessee Alliance for Legal Services (https://www.tals.org/1844HELP4TN). Posted 9.3.19

Ben C. Adams  is now serving as Chairman Emeritus at Baker Donelson. He served as Chairman and Chief Executive Officer of the Firm for a combined total of 21 years (June 1993 – April 1998; October 2003 – April 2019). Under his leadership, Baker Donelson grew from a firm of around 270 attorneys and advisors across ten offices in three states and Washington, D.C. to become one of the 60 largest law firms in the country, with more than 700 attorneys and advisors across 21 offices in ten states and Washington, D.C. Throughout the Firm's significant growth, it created and maintained a strong culture as an exceptional workplace, earning a spot on Fortune's "100 Best Companies to Work For" list for nine consecutive years. Ben garnered multiple honors recognizing his leadership, including being named among "America's Most Innovative Managing Partners" by Law360. Posted 8.20.19
NEWSLETTER   - The third edition of the Class of 1981 Newsletter, Sometimes You Eat the Bear..., was circulated to members of the class. Posted 5.28.19
Thomas William Baker, a shareholder in Baker Donelson based in Atlanta, has published a book, The Legal Aspects of Health Care Business Transactions: A Complete Guide to the Law Governing Health Industry Business Organization, Transactions and Governance, which he uses in teaching a course in the Auburn University executive MBA program for physicians. Tom is an adjunct professor in the Auburn University Harbert College of Business Tom recently formed Coronat Services, which provides educational, mentoring and independent director services.  Posted 5.2.19
Ben Adams has stepped down from his position as Chairman and CEO at Baker Donelson after having served in the role for a combined total of 21 years, first from 1993-1998 and then from October 2003-April 2019.  Tim Lupenacci '91 was announced as Ben's successor in October of 2018 and assumed the role in April 2019. Read the story here. Posted 4.24.19
NEWSLETTER  - The second edition of the Class of 1981 Newsletter, Sometimes You Eat the Bear..., was circulated to members of the class. Posted 2.13.19
Kent Halkett supports student volunteers providing pro bono legal support to low-income patients of the Shade Tree Clinic, through which students at Vanderbilt Medical School provide free care for uninsured patients. Read the news story here. Posted 1.21.19
1981 Holiday Message to Class from Kent Halkett Posted 12.13.18 


Stephen B. Hatcher , 62, died Sunday, September 16, 2018, in Tampa, Florida.  Born in Wilmington, Delaware, on November 12, 1955, his family moved to Maryville, Tennessee, when Steve was five years old.  He grew up playing basketball, running track, and hiking and camping in his beloved Great Smoky Mountains.  Steve started his legal career with the firm of Anderson & Rush in Orlando, Florida. In October 1984, Steve joined the law firm of Zimmerman, Kiser & Sutcliffe in Orlando, where he practiced for almost 35 years. He served as president of the firm from 2008 to 2018. As a husband, father, and grandfather, Steve exemplified patience, discernment, and love. He had a gift for listening intently and providing wise counsel. He simply loved life with his family, laughter, music, and playing basketball and golf with his sons and friends.  Steve is preceded in death by his parents, Daniel and Wanda Hatcher, and his brother-in-law, John Brannan, Sr. He is survived by his wife of 40 years, Rebecca Brannan (Becky) Hatcher; son Nathaniel Stephen (Nathan) and his wife, Kathryn Koczwara (Katie) Hatcher; son Benjamin Brannan (Ben) Hatcher and his wife, Melody Secrest Hatcher; and three grandchildren, Sophie Grace Hatcher, Evelyn Dyess (Evie) Hatcher, and Stephen Alan Hatcher. He is also survived by a large extended family on the Brannan side. Posted 11.28.2018
NEWSLETTER - Class Agent Kent Halkett circulated his first newsletter to the members of the Class '81. Posted 7.20.18
Bryan Echols has joined Thompson Burton as partner. Previously, Bryan was partner at Waller Lansden Dortch & Davis.  Bryan is an adjunct faculty member at Owen Graduate School of Management. Posted 4.24.18
Mark Fiedler, current board member of Equifax, has been appointed to serve as Non-Executive Chairman of Equifax. Mark is a partner and co-founder of MSouth, a private equity investment firm. Posted 10.18.17
Karin D. Coble of Nashville died August 15. She was 83. Karin earned both her undergraduate and law degree from Vanderbilt. She is survived by her daughters Karin and Elizabeth. Posted 8.24.17
Edward H. Benton of Albany, New York died July 9. He attended Yale University before earning his law degree from Vanderbilt where he was a Patrick Wilson Scholar. Post graduate studies followed in Cross-cultural Negotiation and International Dispute Resolution at Pepperdine University School of Law 1999. Edward's lifetime employment began as President of POS Corporation in New Haven, CT, a computer systems company. He was Account Executive at Benton and Bowles, NYC, then Associate in international law with Simpson Thacher & Bartlett, NYC, Hong Kong, and Singapore. He was Associate in leveraged buyout financings with Skadden, Arps, Slate, Meagher & Flom, NYC, and moved to become Associate in investment banking with Cadwalader, Wickersham & Taft, NYC. When Edward entered startup businesses in Upstate NY, he cofounded Winding Brook Farm in Copake, NY, raising organic beef cattle. He partnered with his brother Thomas to establish Video Cave, a ten store chain serving Columbia-Greene and Duchess Counties. He became General Counsel for Dynamic Credit Partners, NYC and Legal Search Executive for Alan Roberts & Associates, NYC. Upon his retirement, Edward was an adjunct professor in Criminal Justice and Animal Law for Hudson Valley Community College in Troy, NY. He is survived by his wife, Malu. Posted 8.1.17
Richard Thomas Bruno died November 25 after losing his battle with cancer. Originally from Syracuse, Richard graduated from Dartmouth College before earning his law degree from Vanderbilt. After graduation he returned to Syracuse to practice law. The last few years of his life were spent in Knoxville, where he left law for his true passion, teaching. He is survived by his children David and Sarah. Posted 1.19.17
Jim Browne has joined Barnes & Thornburg's Dallas office in the corporate department. Posted 11.28.16
Kent Halkett has moved back to Nashville after 35 years of doing business litigation in Los Angeles. Posted 9.22.16
William E. Young (BA'77) has been appointed by Tennessee Governor Bill Haslam as chancellor in the 20th Judicial District, which serves Davidson County. Posted 8.23.16
James Michael Redwine is the director of the Water Qualify and Sustainability Program for the Harpeth River Watershed Association in Brentwood, TN. Jim has over 30 years of experience as a corporate executive, and environmental and bankruptcy attorney. Posted 4.5.16
Kevin Clarey Tyra  was elected a director for the Defense Trial Counsel for Indiana group. He is the principal in The Tyra Law Firm in Indianapolis, which focuses on insurance defense and insurance coverage litigation.  Posted 1.27.16
Waverly D. Crenshaw Jr. joined the Nashville School of Law Board of Trustees. Waverly is a partner in the Nashville office of Waller Lansden Dortch & Davis as well as a federal district court judge nominee.  Posted 1.29.16
Andree Sophia Blumstein has been featured in a Tennesseean article that examines her path into the legal field and her career accomplishments. She is currently Tennessee's first woman solicitor general. Posted 11.3.15
Karl F. Dean has been appointed to the YWCA of Nashville & Middle Tennessee's board of directors. Also, he was featured in a Boston Globe article discussing the Amp project. Karl is the former mayor of Nashville, Tennessee. Posted 11.3.15
John Randolph Bibb Jr.  (BA'77) was included on the 2015 "Best of the Bar" awards list by the Nashville Business Journal. Randy is a shareholder in the Nashville, Tennessee office of Lewis Thomason where focuses his practice in the areas of product liability and toxic tort cases. Posted 5.15.15
Samuel David Lipshie (BA'77) was included on the 2015 "Best of the Bar" awards list by the Nashville Business Journal. Sam is a partner with the Nashville, Tennessee office of Bradley Arant Boult Cummings where he focuses his practice in the areas of entertainment, music, intellectual property and commercial litigation and dispute resolution. Posted 5.15.15
Susan Snyder Reeves (BA'78) died April 10, 2015. She was 59. A long-time resident of St. Simons Island, Georgia, Susan earned both her undergraduate and law degrees from Vanderbilt. In her professional life, she managed grants for the MAP International and the Georgia Department of Natural Resources. She is survived by her daughter and mother. Posted 4.26.15
James L. Desmond has joined The Nature Conservancy as Oregon State Director. The Nature Conservancy is an international conservation organization committed to protecting the land and waters on which life depends. It has 1.2 million active members and has protected 119 million acres of land across the world. Jim spent several years working for The Nature Conservancy in North Carolina as a regional attorney before moving to Portland in 1993 to work for The Trust for Public Land. After four years with Trust, he spent the next 18 years at Metro, the regional government serving Portland, 24 suburbs, and three counties, as the director of Metro's Sustainability Center. An article highlighting his new position can be found here. Posted 2.18.15
Waverly D. Crenshaw Jr. (BA'78) , a partner at Waller Lansden Dortch & Davis, has been nominated to a seat on the U.S. District Court for the District of Middle Tennessee by President Barack Obama. If confirmed by the U.S. Senate, Waverly will fill the seat vacated by Judge William J. Haynes Jr. '73, who took senior status in December. Posted 2.18.15
John Bryan Echols has joined Waller Lansden Dortch & Davis as a partner in the firm's real estate group. Bryan previously practiced at Dickinson Wright after almost a decade with Stites & Harbison in Nashville. Posted 2.18.15
Andree Sophia Blumstein will join the office of Tennessee Attorney General Herbert Slatery as solicitor general. She will oversee appellate litigation in state and federal courts, review written opinions, and advise the attorney general. An article highlighting this accomplishment can be found here. Posted 11.4.14
C. Dewey Branstetter Jr. joined Sherrard & Roe as a partner. Branstetter was previously managing member of Branstetter Stranch & Jennings, which was founded by his father, Cecil D. Branstetter, who died in early May. A Nashville native, Branstetter has practiced law for more than 30 years. He concentrates his legal work on utility and municipal issues and complex litigation. He is currently chairman of the Metropolitan Nashville's Charter Revision Commission and the first vice president of the Nashville Bar Association. Posted 7.16.14
Michael L. Dagley , a member with Bass Berry & Sims, recently won a $106 million settlement for North Dakota-based Trinity Medical Center in a faulty software arbitration case against IT giant Cerner. Posted 2.14.14
Two law firms headed by Vanderbilt Law alumni—Baker Donelson, headed by CEO Ben C. Adams '81, and Alston & Bird, headed by Managing Partner Richard Hays '86—were recognized among Fortune Magazine's 2014 list of the "100 Best Companies to Work For." Baker Donelson ranked 31st and Alston & Bird 40th, and both firms were among the top five in the "professional services" category. Posted 1.17.14
Stephen Barclay Hatcher, president of the law firm of Zimmerman Kiser Sutcliffe (ZKS), was recently named Alumnus of the Year by Lifework Leadership. Lifework Leadership is a national nine-month Christian leadership program. Stephen, a 1994 graduate of the Lifework Leadership program, previously served as secretary for the organization and has been instrumental in assisting with legal issues surrounding its growth into a national program. He previously received the designation of Certified Christian Conciliator from the Institute Christian Conciliation in association with Peacemaker Ministries, a national organization founded in 1982 under the auspices of the Christian Legal Society. Hatcher has more than 30 years of experience practicing law in the areas of complex real estate and business transactions and sophisticated estate and tax planning. Posted 7.18.2014
Scott E. Dwyer , a member at Mika Meyers Beckett & Jones, has been elected to the board of directors for Autism Support of Kent County. Scott serves as a director for the nonprofit and works with the board of directors to support and advocate for persons with Autism Spectrum Disorder and their families. Scott concentrates his practice on labor, employment, trade secrets and noncompetition agreement disputes, shareholder disputes and commercial litigation. Posted 9.6.13
Lisa Edelmann McLaughlin was named the 2013 Professional Advisor Legacy Award recipient by the Saint Louis Planned Giving Council and Youthbridge Community Foundation as an acknowledgement of her significant role in charitable giving in the greater St. Louis, Missouri community over her 32 year legal career. Lisa is a Shareholder of Polsinelli and a member of the firm's wealth planning and nonprofit organizations practice groups. Posted 7.16.13
H. Allen Corey, former president and CEO of Craftworks Restaurants and Breweries, has accepted an invitation to join the board of directors for Quickcue. A well-respected member of the hospitality community, Allen brings valuable insight to Quickcue, a growing startup focused on helping restaurants know and serve their guests better. Posted 7.15.13
Thomas Thorp Pennington has joined Frost Brown Todd as a member in the Nashville office focusing his practice in the areas of financing and restructuring transactions related to the surety industry. Most recently, Tom was a partner at Watt Tieder Hoffar & Fitzgerald. Before that, he worked at Manier & Herod. Posted 6.12.13
Ben C. Adams , chairman and chief executive officer of Baker Donelson, has been named CEO of the Year in the "200-1,000 Employees" category by Memphis Business Quarterly (MBQ), a bi-monthly business magazine. Mr. Adams, who was one of three finalists in his category, was named the winner at the second annual CEO of the Year awards ceremony held on February 20, at the Memphis Botanic Gardens. The awards recognize the extraordinary achievements of executives in Memphis, with the winners chosen by an impartial group of judges selecting finalists from public nominations. Posted 3.29.13
Waverly D. Crenshaw Jr. (BA'78), a partner at Waller Lansden, is one of 10 Tennessee individuals and organizations honored in March by the Tennessee Human Rights Commission (THRC) for his career focus on diversity and non-discrimination education. Waverly has contributed to the THRC's Employment Law Seminar for more than a decade and also serves on the boards of the Middle Tennessee Workforce Development Center and on the Governor's Advisory Committee on Equal & Fair Employment Opportunity. Posted 3.13.13
Nashville Mayor Karl Dean has been honored by the Friends of National Service with a national award for encouraging community service. Dean was one of three city leaders from around the United States honored for local leadership at the Friends of National Service reception in Washington. Mayor Dean also received local and national attention in 2012 for his commitment to fight obesity as Mayor of Nashville. An HBO documentary film crew came to Music City to cover Mayor Karl Dean's Walk 100 Miles campaign and numerous other citywide efforts to improve citizens' health. Footage captured during that shoot was featured in The Weight of the Nation, a four-part series by HBO Documentary Films that aired May 14 and 15, 2012 on HBO. Posted 2.13.13
Michael R. McWherter (BA'78), the 2010 Democratic nominee for Tennessee Governor, recently became the newest member of the Tennessee Valley Authority board of directors, taking the oath of office in a ceremony in Nashville. His term will expire on May 18, 2016. After being nominated by Barack Obama in 2012, Mike was confirmed unanimously by the U.S. Senate on January 1, 2013 and  sworn in by U.S. District Judge Todd J. Campbell of the Middle District of Tennessee during a ceremony at the Estes Kefauver Federal Building and Courthouse. Mike lives in Jackson, Tennessee, and is owner and president of Central Distributors Co. and Volunteer Distributing Co., Tennessee-based beverage distribution companies, since 1989 and 1985, respectively. He worked in private law practice from 1982 to 1985 in Nashville, with a focus on banking and administrative law, and clerked for the Tennessee Supreme Court from 1981 to 1982. Posted 2.5.13
Louise Rankin has American Baptist Homes of the West (ABHOW), which provides housing for seniors, as the company's senior vice president and general counsel. Louise joined ABHOW in January 2013 after spending 17 years with Jones Day. Most recently, she was the Administrative Partner of the San Francisco office of Jones Day. Her private practice of 31 years concentrated in health care, where she has worked with nonprofit hospitals and long-term care organizations to access the capital bond market. Louise helped develop many of the structures available for financing health care organizations today. As general counsel, she is in charge of all legal aspects of ABHOW, including risk management, compliance, and transactions. Posted 01.18.13
Kent Alan Halkett, a partner at Musick Peeler & Garrett in the firm's downtown Los Angeles office, was recently featured on the cover of the Los Angeles County Bar Association's December issue of the Los Angeles Lawyer magazine. His article, "School Rules," discussing California's "educational malfeasance" rule, was featured in the magazine. Posted 1.4.13
Stephen Barclay Hatcher , shareholder and president of Zimmerman Kiser Sutcliffe, has been appointed to the board of directors for The Jobs Partnership of Florida, Inc. a non-profit corporation meeting the needs of the chronically underemployed in the Central Florida community. Posted 11.14.12
Philip N. Elbert, a member of Neal & Harwell, has been granted certiorari by the U.S. Supreme Court in Maracich v. Spears, No. 12-25. The case docket can be read here. Posted 10.15.12
Eugene James Honea of Nashville died February 25. He was 65 and had retired from private practice in Franklin. He was well known for his sharp wit and legal acumen. He is survived by his wife, Charla. Posted 4.30.12
Wade B. Cowan (A&S '78) has been elected to a three-year term on the executive board of the National Employment Lawyers Association. Wade is of counsel in the Nashville office of Davies Humphreys Horton & Reese. Posted 10.17.11
Margaret "Margie" Schreiber, a former partner at Lowndes Drosdick Doster Kantor & Reed, was announced to the circuit bench for Orange and Osceola counties. Margie is a construction and civil law specialist. Posted 10.17.11
Jim Redwine recently completed a two-year assignment as the Vice President, Environmental, of Motors Liquidation Company (MLC, fka General Motors Corporation) when the plan of liquidation for MLC became effective at the end of March 2011. He describes his role with MLK as "the most challenging and satisfying in my career so far." He joined MLC on the day General Motors (GM) filed for bankruptcy in 2009, assuming responsibility for all environmental aspects of the largest industrial bankruptcy in U.S. history. Posted 5.11.11
Bill Young (AS'77, JD'81), general counsel at Blue Cross Blue Shield of Tennessee, was selected to be the next Tennessee Solicitor General, working for Attorney General Bob Cooper. Bill was also serving as head of the commission that helps select judicial nominees for the bench in Tennessee, leaving a vacancy that will lead to shifts on that body as the General Assembly debates how the state should pick judges. He will oversee appellate litigation in state and federal courts, review written opinions, and advise the attorney general. The position of solicitor general became vacant upon the death of Mike Moore in November 2010. Young will assume his new duties in early June 2011. Posted 4.11.11
Michael Lee Williams died November 25, 2010, after a battle with melanoma. He was 54. He was senior counsel in litigation and employment law with the El Paso Corporation in Houston. Mike joined the legal department of Colorado Interstate Gas, a subsidiary of the Coastal Corporation in Colorado Springs, in 1984. When Coastal merged with El Paso Corporation in 2001, Mike joined El Paso's legal department, where he worked until his death. Mike possessed an unsurpassed grasp of the many intricacies of the energy business. He knew the gas pipeline business as well as most of his clients and developed a similar expertise on the exploration and production side of the business. He had a very short learning curve and remarkable analytical skills, which he could apply to a broad range of litigation matters. He sifted through the most complicated sets of facts and legal issues to make them understandable and achieve a logical and sound recommendation. The way he practiced law truly reflected who he was as a person; he was always above board and never felt that the adversarial nature of the profession required a lack of civility. He treated everybody with kindness and respect, no matter what challenge he faced. He had a great sense of humor. Mike is missed by his colleagues at El Paso and by his parents, Jack and Laura Williams, and his sister and brother.
Stephen C. Schuyler, 49, died November 11, 2005. He was born March 25, 1956, in Bellefonte, Pennsylvania, to Dr. and Mrs. Walter B.J. Schuyler. His father delivered Stephen. He was a descendant of Gen. Philip Schuyler, one of the four Revolutionary War major generals.
He spent his formative years in State College, Pa., moving to Albuquerque, N.M., in 1970, and he graduated from Albuquerque Academy in 1974. He attended Kenyon College, his father's alma mater in Gambier, Ohio, where he majored in English and graduated in 1978. In 1981, he graduated from Vanderbilt Law School.
He is survived by his loving wife, Priscilla Luce Schuyler; daughters Olivia and Emily; sister Karen Schuyler Sabean and her husband, Dr. Joel Sabean, of Falmouth; brother, Dr. Walter B.J. Schuyler of Scarborough; in-laws, Richard and Gloria Luce of Cape Elizabeth; his brothers-in-law, Richard Jr. of Bangor, Robert and William of Westbrook. He is also survived by nieces and nephews Joel and Shannon Sabean; Walter B.J., Benjamin and Victoria Schuyler, Sage, Ryan and Corey Luce. His parents, to whom he was close, predeceased him.
In 1982, he met and fell in love with Priscilla Jane Luce of Cape Elizabeth. They were married June 11, 1983, at St. Luke's Cathedral in Portland. While pursuing his legal career, Stephen and Priscilla resided in Augusta, Boston and Florida. They returned to Maine once their two beautiful daughters, Olivia Jenneke, 16, and Emily Anna, 12, were born. The Schuyler family has lived in Kittery Point since 1989. Stephen was an avid runner. He completed two marathons, the Maine Coast Marathon in 1982 and the Boston Marathon in 1989. He was a competitive soccer player and faithful fan. He was proud of his two daughters He loved watching them play soccer. He enjoyed traveling with his wife and children.
He was an avid reader and music lover, always seeking out new musical artists.He co-authored a book, "Investor Alert," and was quoted in The Wall Street Journal and other financial publications. Mr. Schuyler passed both his Maine and Florida law boards in 1981. He began his legal career in Fort Myers, Fla.
He pursued his professional interest in securities law and was instrumental in running the securities division for the State of Maine during the 1980s. He also worked at the U.S. Security and Exchange Commission, Boston office, and the National Association of Security Dealers in the late 1980s. During the 1990s to the present, Mr. Schuyler worked with prominent mutual funds, banks and initial public offerings for many clients, ensuring securities regulatory state and federal legal compliance from both Boston and New York offices.
---