Robert Reder '78 named VLS 2018 Distinguished Alumnus; Justice Cornelia Clark '79 (BA'71) receives Distinguished Service Award
Mar 15, 2018
Both awards were announced by Dean Chris Guthrie, who is the John Wade-Kent Syverud Professor of Law.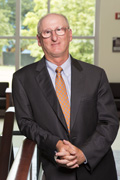 Bob Reder joined Vanderbilt's law faculty after retiring from his corporate transactional practice as a New York-based partner of Milbank Tweed Hadley & McCloy, where he represented clients in financial services, health care, manufacturing and technology in M&A and capital market transactions and corporate governance, and served for several years as leader of his firm's global corporate practice group.
"Bob has been an active member of our Board of Advisors for multiple terms, and he has also endowed the Enterprise Faculty Fund–the law school's only endowed faculty research fund–and a substantial scholarship," Guthrie said. "Since joining our faculty in 2012, he has taught two semester-long upper-level classes and been a wonderful student mentor who co-authors articles for Vanderbilt Law Review En Banc with promising students. We are grateful for Bob's staunch and multifaceted support and proud to honor him as our 2018 Distinguished Alumnus."

Justice Cornelia Clark became the second woman in Tennessee's history to serve as chief justice of its Supreme Court when she was sworn into her two-year term Sept. 1, 2010, having served on the state's highest court since 2005, when she was appointed by Gov. Phil Bredesen. She has since been elected to two eight-year terms, most recently in 2014. She was a circuit court judge of the 21st Judicial District of Tennessee from 1989 to 1999, after which she served as director of the Administrative Office of the Courts until her appointment to Tennessee's Supreme Court.
Clark earned her undergraduate degree at Vanderbilt in 1971 and then earned an M.A. in teaching at Harvard University in 1972. She taught high school history and government for four years before entering law school, where she was a member of the editorial board for the Vanderbilt Law Review and the only student member of the 1979-80 dean search committee. After law school, Clark joined Farris Warfield & Kanaday in Nashville. Before her appointment to the bench, she served as the Franklin City Attorney and on the board of Williamson County-Franklin Chamber of Commerce. She was also the first woman to serve as chair of the Tennessee Bar Foundation.
"In addition to Connie's tireless community service, she has served on the law school's Board of Advisors and taught as a member of Vanderbilt's adjunct law faculty," Guthrie said. "She deserves this recognition for her lifetime of service to the state of Tennessee, the 21st Judicial District and her hometown of Franklin, and I'm very proud to recognize her with the 2018 Distinguished Service Award."
Reder and Clark will be presented their awards at the law school's Founders Circle Dinner on Friday, April 13.
---