Wesley Dozier '19 receives Garrison Social Justice Scholarship
Wesley Dozier '19 has been named the Garrison Social Justice Scholar for the Class of 2019.
Dozier's award was announced by Professors Terry A. Maroney and Daniel J. Sharfstein, who co-direct the George Barrett Social Justice Program. "I am thrilled that Wesley is being recognized with the Garrison Social Justice Scholarship, which is the highest honor we offer a current student," Sharfstein said. "His passion for social justice and commitment to helping under-served communities organize and speak to power shine through with everything he does. I look forward to seeing his continuing contributions to the law school, the legal profession and the people we serve."
The Garrison Social Justice Scholar receives a supplemental annual scholarship for the second and third years of law school as well as stipend support for unpaid legal work with public interest organizations during the two summers prior to graduation. The scholarship is endowed by Amy Price Garrison (BA'79) and Frank M. Garrison '79 (BA'76) through the Amy and Frank Garrison Social Justice Law Fund.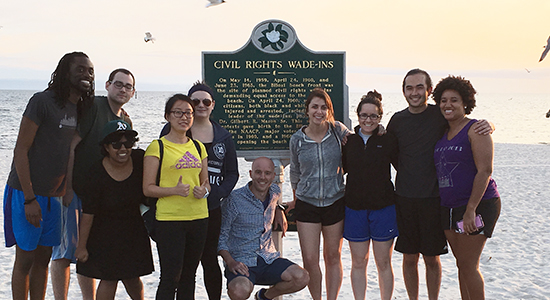 Dozier will spend summer 2017 working at the Center for Constitutional Rights in New York, a pro bono organization that has provided legal support to detainees at the Guantanamo Bay detention center and challenged a Michigan law allowing the state to appoint local city managers in lieu of local mayoral election. He was one of 10 students selected for Vanderbilt's 2017 Pro Bono Spring Break program, through which students traveled to Biloxi, Mississippi, to spend a week working with attorneys at the Mississippi Center of Justice on property rights, education and expungement cases.
"People who are on the receiving end of social ills often don't get the chance to speak for themselves," he said. "There's a lot of power in doing that, and one of my goals is to make sure people's voices are heard."
A native of Memphis, Tennessee, Dozier earned his undergraduate degree in public policy studies at Vanderbilt. During summer 2013, he worked as an intern for Rep. Steve Cohen, who represents Tennessee's 9th congressional district in Memphis. Dozier spent the summer between college and law school working at Dismas House, a nonprofit residence that helps recently incarcerated individuals find employment and permanent housing and make a successful transition from prison to re-entering society.
As a 1L, Dozier has served as the 1L class representative and on the Community Service Committee of the Law Students for Social Justice, and as a mentor with the Black Law Students Association. He also volunteers at Riverbend, a maximum-security prison in Nashville, where he visits a prisoner on Tennessee's Death Row.
---
Alumni General News Home Page News Summer 2017 Vanderbilt Law Magazine